7 Ways To Stay Calm (And Manage Anxiety) While Social Distancing, Sheltering In Place, Or Under Self-Quarantine -- Coronavirus (COVID-19)
By: Marie Miguel
Updated August 28, 2020
Coronavirus (COVID-19) - The Virus Felt Around The World
Many local, state, and national municipalities are taking steps to protect their citizens by implementing new rules, laws, and procedures in an attempt to limit and contain the spread of the coronavirus (COVID-19) outbreak that was recently declared a worldwide pandemic by the World Health Organization (WHO).
To stop the spread of COVID-19, health officials and authorities worldwide are recommending (and sometimes requiring) that people around the globe "self-quarantine" or "shelter-in-place."
Social Distancing, Sheltering-in-Place, And Self-Quarantine.
Source: rawpixel.com
According to worldwide health experts, taking social distancing precautions can help limit the spread of the coronavirus via person-to-person contact. As a result, cities worldwide have placed a ban on travel and leisure activities, asking the public to temporarily halt participation in non-essential services (especially group gatherings and social activities).
This means that businesses, public venues, restaurants, schools, and other places where people normally gather daily have virtually come to a standstill in some places.
While families are hunkering down and preparing to shelter in place for the next few weeks (except for essentials), anxiety is definitely higher around the world. People who suffer from anxiety on an ordinary day may feel the pressure of world events and find their anxiety beginning to flare up.
With the latest news surrounding this global pandemic, anxiety sufferers around the world are wondering how to stay calm.
In this article, we'll talk about seven strategies you can use to manage and reduce anxiety during these stressful times.
Tip #1. Take A Break From The News.
Source: rawpixel.com
More cases of COVID-19, also known as the coronavirus, are being reported every day. With the entire world on the edge of its seat, it's no wonder that people suffering from anxiety and related mental health disorders are having higher-than-normal bouts of anxiety.
It's important to keep up with the news about the virus to make the best health decisions for you and your family, but this doesn't mean you should stay tuned into the news every second of the day. Instead, it's all right to check verified news sources periodically for important updates from local and regional news outlets and public health decision-makers.
When possible, share the tasks of getting news updates with a friend or family member, so it doesn't fall completely on you to be informed. It's easy to become overwhelmed. Constantly tuning in and digesting world news is not the best way to keep your mental state in check.
Tip #2. Get Your Blood Flowing With Short Bursts Of Exercise.
Source: rawpixel.com
It might seem strange to exercise at a time like this, but getting your blood flowing is one of the best ways to move stuck energy. Your mind and body will thank you for doing a few minutes of yoga stretches, deep breathing exercises, and cardio.
Even running in place for a few minutes can help relieve tension and stress in your body and your mind. When there's limited blood circulation, tension can build up in the body. Get moving whenever you can to reduce this tension and keep anxiety from becoming unmanageable.
Tip # 3. Organize And Catch Up On Overdue Projects, Homework, Etc.
Remember all of those projects you've been putting off because you didn't have time to do them? For example, now is a great time to tackle projects around the house that have been needing attention. If you're not a DIY expert, don't be afraid to use internet resources for simple ways to complete your projects.
You'll feel an added sense of relief when you look at all you've accomplished. The anxiety that had been surrounding these unfinished tasks can fade, and you'll feel better knowing you're still making steady progress toward your goals.
Tip #4. Create A Daily Schedule To Combat Anxiety And Boredom.
One of the biggest drivers of anxiety in our lives is not knowing what to do next. Anxiety sufferers can benefit from writing out a daily schedule that outlines how you will spend your day. You might feel better if you create a simple schedule that highlights important parts of your day.
Some self-quarantined Twitter users are sharing their schedules online, along with tips for managing anxiety during the coronavirus crisis. Parents who have children out of school and who also suffer from anxiety will particularly benefit from creating a schedule and following it until things get back to normal.
Tip #5. Check-In With Yourself By Practicing Self-Care.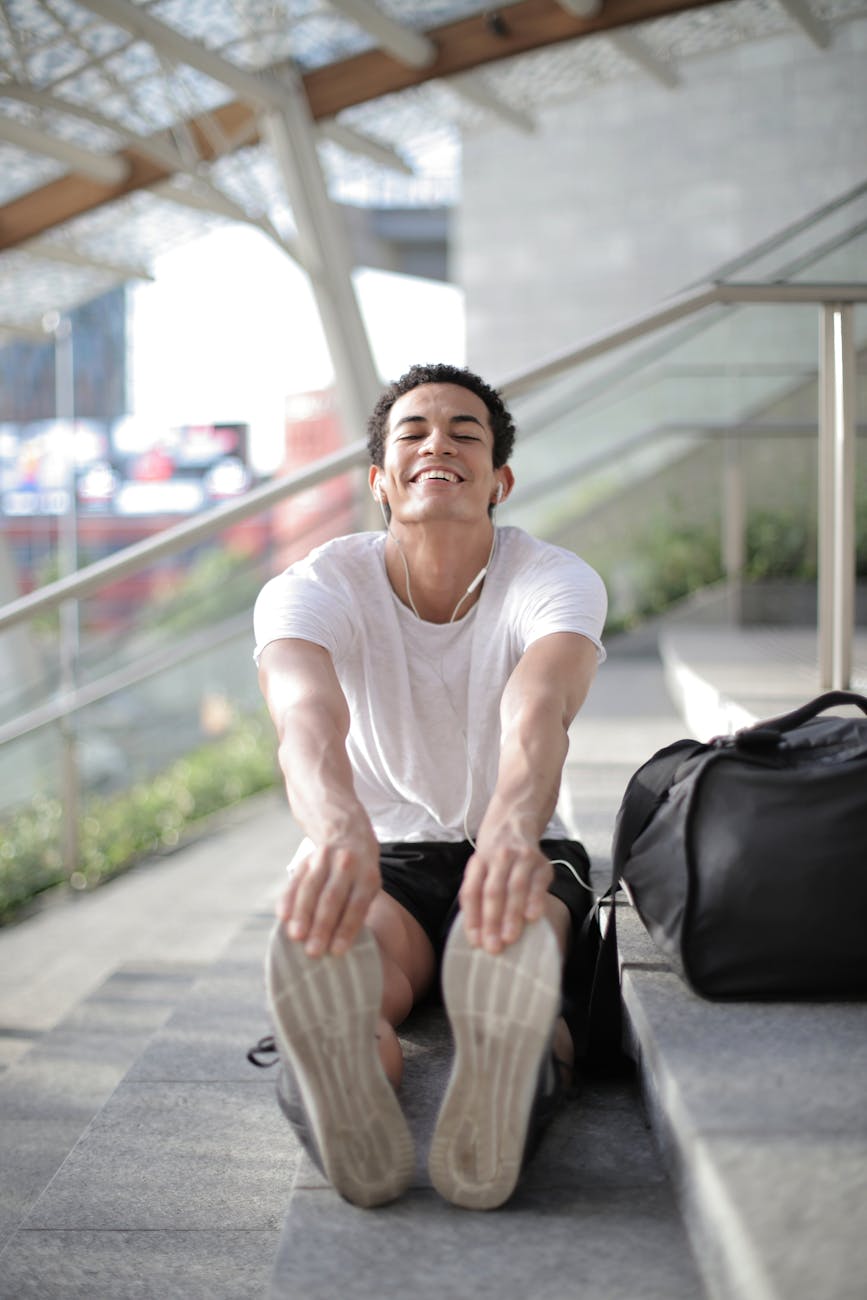 Source: rawpixel.com
It should go without saying that practicing self-care during times of high stress is what everyone should do. However, many of us save the best for last and forget to take care of ourselves until we start feeling run-down, overwhelmed, or extremely anxious. Take advantage of the downtime associated with COVID-19 and practice some self-care exercises. The following are eight examples of self-care activities you can do at home:
Yoga
Meditation
Salt Bath
Hot Tea/Hot Chocolate
Self-Massage
Couples Massage
Deep Breathing Exercises
Deep Stretching Exercises
Tip #6. Talk To A Mental Health Professional Online.
If your anxiety seems to be spiraling out of control, reach out to a mental health professional online for guidance and support. A licensed mental health professional can provide distance-therapy and real-time options for coping with the anxiety surrounding COVID-19.
For people who aren't able to go into therapists or doctor's offices because of self-imposed quarantine and local shelter-in-place restrictions, there are several options for getting support online. Therapists and counselors at BetterHelp are available online 24 hours a day to help you ease symptoms of anxiety and stress.
Source: rawpixel.com
Leading therapy sites like BetterHelp.com, DoctorOnDemand, and TalkSpace offer low-cost options for getting online therapy from board-certified professionals regardless of where you are in the world. To connect with a licensed therapy provider at BetterHelp, visit the main website from your desktop computer or tablet. The BetterHelp app is available as a free download on the Google Play and App Stores.
Download BetterHelp on the App Store here.
Download BetterHelp on Google Play here.
(Free) Telephone, Chat, And Online Resources For Managing Mental Health Concerns From Home
If you need to talk to someone or get help for managing your anxiety at home, you can also take advantage of the following resources.
The NAMI Helpline - 800-950-NAMI (6264)
This hotline offers crisis text support for people during the coronavirus outbreak.
As a precautionary measure, the NAMI crisis telephone line will be only be answering voicemails within 24-48 business hours of receipt.
National Suicide Prevention Lifeline - 800-273 TALK (8255)
Speak with a trained crisis counselor 24 hours a day.
National Domestic Violence Hotline - 800 - 799 - SAFE (7233)
800-656-HOPE (4673)
Tip #7. Follow The Advice Of Your Local And Regional Health Authorities.
Source: CDC graphic via cdc.gov
The World Health Organization and the Centers for Disease Control in Atlanta are two primary resources responsible for monitoring and reporting updates on COVID-19. These two organizations are working together with other public health and safety organizations to contain and reduce the spread of the coronavirus.
The WHO recommends these basic protective measures at this time:
Wash your hands frequently; maintain good hygiene to prevent the spread of germs.
Practice social distancing; maintain at least three feet between you and others.
Avoid touching your eyes, nose, and mouth to prevent transferring germs from contact.
Practice good respiratory hygiene. Use tissues or your elbow when coughing or sneezing.
***If you have a fever, cough, and chills, seek medical care early - call your medical provider by phone before going to any facility.
If you have been advised to "shelter-in-place," follow the rules and regulations set by your local public health department and your local authorities. Verify your information sources, and don't rely on gossip to make critical decisions.
If you need to speak to a licensed counselor or therapist about dealing with anxiety around the coronavirus, help is available. You can contact a BetterHelp therapy professional online 24 hours a day.
---
Previous Article
Coronavirus And Quarantine - Can Online Therapy (Telehealth) Help?
---
Next Article
What You Should Know About the Coronavirus (And How It's Affecting Mental Health)
---
The information on this page is not intended to be a substitution for diagnosis, treatment, or informed professional advice. You should not take any action or avoid taking any action without consulting with a qualified mental health professional. For more information, please read our
terms of use.