6 Ways to Show Love for Your Husband
By: Stephanie Kirby
Updated November 11, 2021
Medically Reviewed By: Sonya Bruner
When we think of love, most people think of romantic love. This often includes things like flowers, chocolates, dinner, and dancing. But many husbands don't necessarily feel loved through these activities. So, what can you do to properly communicate your loving feelings?
Gary Chapman wrote the bestselling book The 5 Love Languages. The book goes into detail about how there are five different ways that people feel and communicate love. According to the book, the most effective way to show someone you love them is to determine what their love language is, and then show them in that way. The five languages are words of affirmation, quality time, receiving gifts, acts of service, and physical touch. If you feel that you are trying to show your husband that you love him, but the message isn't getting through, it may be that you aren't speaking his "language." With that in mind, look for ways to show your love for your husband with both your words and your actions. Here are some ideas to get you started.
Ways to Show Your Husband That You Love Him
1. Tell Him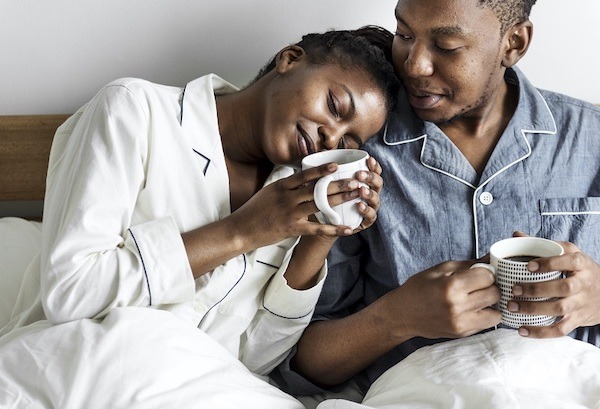 This seems obvious, but many people struggle with actually doing it. Tell your husband that you love him and then tell him something he does that you love. Take the time to tell him every day, but don't do it mindlessly—share this from your heart.
2. Touch Him
Many men thrive on physical connection. This doesn't just mean sexual touch. If you are sitting together watching TV, take time to rub his neck or shoulders. Place your hand on him as you walk by him in the house. If you want, make an effort to initiate sex. Show him that you want him and don't always wait for him to make the first move. Women often want to feel loved by their spouse before having sex, but many men feel loved by their spouse when having sex.
3. Spend Time Doing What He Likes to Do
It says "I love my husband" loud and clear when you take time to enter his world. Find an interest that he shares, and take some time to do this activity with him. For example, if he likes hiking, maybe offer to go on a hike with him. Have him take you on one of his favorite trails. You may even find yourself with a new hobby through sharing one of his. Once you show this willingness to enter his world, you can introduce him to things that you are passionate about as well.
This concept can be applied to any area. All you need to do is find out what he likes, do a little research, and then make time to participate in it or talk about it with him.
Ways to Show Others You Love Your Husband
4. Build Him Up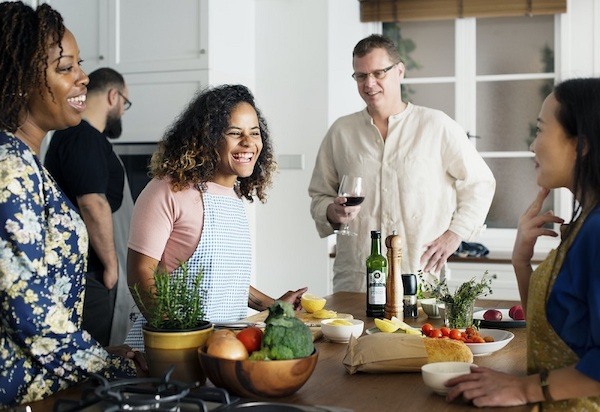 When you talk to others, try to share the things that you appreciate about him. While we all have conversations with close friends about the things that annoy us, balance this out with recognition of his strengths. This balanced approach will often increase your appreciation of him.
5. Connect With His Family
In-law relationships can be challenging. But, one great way to show that you love your husband is to make a real effort with his family. Learn about them, offer to help them, invite them over for dinner. These activities will help show his family how much you love him and show him the same thing.
6. Establish Healthy Boundaries
When you are married it's important to establish healthy boundaries. You can choose the boundaries that make sense for you and your marriage. Being in agreement regarding both of your boundaries shows a mutual love and respect for one another.
A Better Connection Through Online Therapy
There is a growing body of evidence showing that online therapy can help those couples who are having trouble maintaining a positive connection in their relationship. One such study, published in the American Journal of Family Therapy, found that there are several benefits made possible by online therapy, including greater convenience, lower costs, and greater discretion. These findings are in line with current research suggesting that online platforms are effective in providing increased access to couples counseling. Utilizing these platforms, mental health professionals guide couples through useful activities meant to help the individuals better understand the emotions and behaviors underlying their interactions.
If you are having trouble showing love to your husband, or simply want to strengthen an already solid bond, online therapy can be a valuable tool. With online therapy through BetterHelp, you'll be able to schedule sessions on your own time—no more coordinating with your therapist weeks or months ahead of time, or missing work to make an appointment. The qualified experts at BetterHelp can help you and your husband better express your love for each other. Read below for counselor reviews, from those who have experienced similar issues.
Counselor Reviews
"Michelle Lesagonicz met me at the point of my need, when I was at the end of my rope and needed guidance. She was a neutral party and didn't choose sides between my husband and myself. I appreciated the fact that she pointed out some "flaws" in my behaviors and thinking patterns, and she gave me tips on how to be an advocate for myself without guilt. She encouraged me to form new habits, and to be patient. I chose a counselor such as Michelle because she is older and had practical advice. If I slip in the future, I will certainly request Michelle as my counselor."

"Izabela is AMAZING. Since I've started working with her I have begun to sort out my emotions revolving around past traumas, I've become more aware of what I'm feeling and my communication skills have improved immensely, which have really improved my relationship with my husband"

Conclusion
These 6 options are great things to do to communicate love for your husband in healthy marriages, but what if your marriage is still on a rocky road? Marital relationships can be challenging in many different ways. If you find yourself in a place where you are wondering about the strength of your relationship, then you will want to take this a step further and seek help from a licensed professional.There are qualified therapists online that can help you work through the challenges in your marriage. Whether you are starting to ask questions, or truly questioning the future of your relationship, talking to an outside third party that is knowledgeable about relationships is a wise decision.
---
Previous Article
Is There Such A Thing As A Love Hormone?
---
Next Article
21 Ways to Show Your Son How Much You Love Him
---
The information on this page is not intended to be a substitution for diagnosis, treatment, or informed professional advice. You should not take any action or avoid taking any action without consulting with a qualified mental health professional. For more information, please read our
terms of use.