Before getting married, relationships often go through two major stages. First, there are moments when people realize, "I love my boyfriend." Second, people might realize that their boyfriends are "my one."
I Know I Love My Boyfriend - How Can I Be Sure He's The One?
It can sometimes be hard to know exactly when you reach these stages in loving, however. The timing is difficult to predict, but the early stages of love typically feel amazing and are generally effortless. An online therapist is a great confidant to have when you are walking through each stage of a relationship, and deciding if you see a life together.
It's important to note that everyone's definition of "the one" will look a bit different, but there are some key factors to look out for. These include:
Signs That Your Boyfriend Is The One
You share at least some of the same values

- This means that you both envision a similar future, which is incredibly important when it comes to important things like deciding to have children or where you want to live. A man who doesn't value his family, for example, might not understand why you have loved spending holidays with family instead of going on a tropical vacation. Shared values will make each and every decision that much easier, even if you already think, "I love my boyfriend."

He respects your opinions

- This means that he respects the way you see things. When he asks for your thoughts on important decisions, you know he loves your opinion. He still respects the ones that he doesn't necessarily understand or maybe even fully agree with. If he's "the one," you'll think, "I love my boyfriend" and respect his opinions, too.

He has become your best friend

- For example, when something funny happens to you, you can't wait to call him and tell him all about it. If your boyfriend is also your best friend, you can feel confident you have found "the one" when you catch yourself thinking, "I love my boyfriend." If you have a lot of female friends, it can also be important for them to like him and for your boyfriend to fit in well with your friends.

Your goals start to come together

- When you're loving the right guy, you may want to start planning things for the future. Working toward goals together brings couples closer. When you start tackling goals together, it's a good sign that your relationship is moving from simply "I love my boyfriend" to "I think he's the one." This could include plans to travel to a specific destination, move to a certain city, or support a charitable cause.

You have things in common

- Maybe you're opposites on some levels, but overall your similarities are stronger than your differences, or you are at least able to find some common ground within your differences. Whether it's liking the same fashion and t shirts, to having the same hobbies and physical activities, you may get closer when bonding over these interests.

You trust each other

- It's very, very difficult to have a long-lasting, happy relationship without trust. Trust also goes hand-in-hand with love. The more you develop one of these qualities, the more you're likely to see the other.

You see his bad side, and you still love him

- Somewhere down the line, you'll start to see his negative qualities. This can include little things that you used to think were cute, but maybe now you find them annoying. When you love his good qualities and can accept the not-so-good ones, he just might be "the one." It's important to note that abusive behavior is never okay and is never just someone's "bad side." If you or someone you know is experiencing abuse of any kind, contact the National Domestic Violence Hotline at 1-800-799-7233.

You can be yourself

- When you are with "the one," you will likely reach a point where you realize that you're more comfortable loving him than you've ever been with anyone else. Put simply, you're free to be yourself. You can be fully open and share virtually every aspect of yourself with him (remember, though, it's important to not rely on any one person to fulfill all of our needs!).
A Little Secret About "The One"
If you spend your life searching for your soulmate, or "the one," you may wind up disappointed. Here's why: there isn't just one perfect person for you. All of us come with flaws. If you don't believe that, you may be searching for someone who doesn't exist, and you may miss the person who could make you happy for the rest of your life. By searching so obstinately for the perfect person, you're likely to write off others who could be great matches for you! There are, in fact,
many ways of being compatible
. It's perfectly normal for most people to have similar content and interests to you, and still not be "the one".
Although you'll naturally find it easier to connect with certain men over others, at some point you'll find one who makes you want to stick it out for the long haul—flaws and all. It will feel good in a way that others haven't. That's when you know you've found, "I love my boyfriend" that will last.
Seeking Guidance
Many people, regardless of gender, can experience a fear of commitment. Even if you think, "I love my boyfriend," figuring out if your boyfriend is "the one" may be hard because it puts you in a vulnerable position. It means you're moving on to a new stage of, "I love my boyfriend." This can be a scary place, especially if you were hurt in the past.
If you think you've found the man you want to spend forever with, but you're struggling to commit on a deeper level, you might find comfort and clarity in talking to a licensed therapist via
BetterHelp
. A therapist can help you sort through your thoughts and feelings regarding, "I love my boyfriend," so you can figure out if you need to do some personal work or if he's "the one." Research shows that online therapy is a powerful tool in strengthening couples and can help you determine if your relationship is on the right path for both of you. Through paid commissions, users provide information on couples therapy and the impact on their relationships. Telehealth, as it's also known, is also beneficial for individuals and can help you sort out what's right for you when thinking, "I love my boyfriend."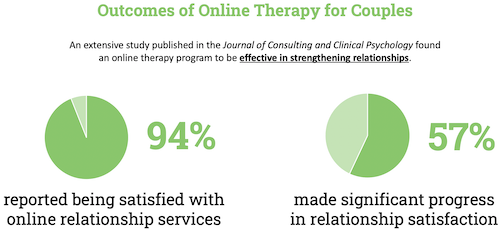 I Know I Love My Boyfriend - How Can I Be Sure He's The One?
You may read the full study here: Marriage: A Randomized Controlled Trial of the Web-Based OurRelationship Program: Effects on Relationship and Individual Functioning.
Read below for some reviews of BetterHelp counselors, from people experiencing similar issues.
Counselor Reviews
"He is a very genuine easy to talk person. He is very helpful to me and my partner. He has had a very positive impact on our relationship."

"Andrea has been nothing short of wonderful since I started counseling with her. She always makes me feel heard and validated, while at the same time challenging me to question the way I think about and react to different situations. She is thoughtful, caring, and nonjudgmental. I have seen a huge difference in myself, my relationships, and my happiness since I started working with her."

Conclusion
If you are thinking, "I love my boyfriend," remember that "the one" is ultimately whomever you choose to love. You'll know you've found him when you're ready to make that loving commitment, and humans are not editorially chosen products that we can tweak and design from scratch for our own liking. Once you decide to commit despite their flaws, then, you'll be able to say, "I love my boyfriend, and my boyfriend is the one!" It likely won't happen right away, and could take months or several years of loving each other, but you'll know this love once you're there.
Whether you need some help trying to figure out how to move forward from, "I love my boyfriend," or are seeking to learn more about yourself so that you can better find that guy to think, "I love my boyfriend," you can take the first step through therapy to a healthy, loving relationship that you can count on.