Jobs for People With Depression
According to the World Health Organization, there are around 300 million people in the world that struggle with depression. You are not alone in your struggles, and many evidence-based treatment options have emerged to address the need for depression-specific treatments. While it can be difficult to work when you have symptoms of depression, there are some jobs that will be a better fit than others. Below are just a few jobs to consider if you're struggling with depression and looking for a change in career.
1. Dog-Walking
Looking for a rewarding, low-stress job that gets you outdoors? Walking dogs could be a great fit. Depending on the company, dog walkers can often set their own schedules and spend the majority of their days out and about with dogs. Walking dogs doesn't require too much interaction with other people, and gets you a healthy dose of vitamin D as well as plenty of exercise, both of which have been shown to help with symptoms of depression. Dog walkers should be responsible, punctual, and comfortable around animals.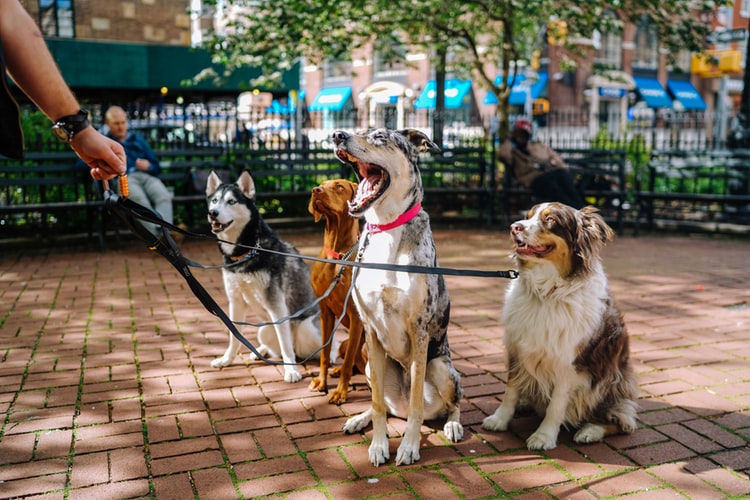 Source: unsplash.com
2. Horticulture
Like working with plants? Horticulture could be up your alley. There is a wide variety of careers in the industry, from professional landscaping to garden centers, to botanic gardens and greenhouses. If you have a green thumb, horticulture could be a great low-stress job that puts your skills to good use. Plants are also good for your health and can give you a boost both physically and mentally.
3. Park Ranger
Working as a park ranger can be a wonderful job opportunity for those who like getting out in nature and helping people get the most out of the great outdoors. Many national parks across the country have summer internship programs that provide room, board and a stipend for those looking to explore a career as a park ranger. Rangers get to learn about nature, survival skills, camping, backpacking, and more. They also usually get a good balance of alone time along with time spent with coworkers who also love their jobs!
4. Librarian
If books are your thing, working in a library can be a great job option. While most full-time librarian positions require a Master's degree in Library Science, many libraries also hire library technicians who help out doing things like working the circulation desk, shelving and organizing books, scanning and uploading documents, and helping patrons find books and resource materials. Public libraries are a force for good in the world, so you'll get to feel like you're making a difference in the world. Research and history more your speed? Consider working in the archives section of a library, where librarians protect, preserve, and conduct research on historical documents and artifacts.
5. Postal Service
Working as a postman or postwoman can be a great career option for those struggling with mental health issues. While the hours and location can vary depending on the position, postal service workers can enjoy a lot of time outside and interacting with people throughout the day while still getting a lot of alone time. Postal workers often are able to develop relationships with the neighborhoods they deliver, leading to lasting connections with the people they serve. And as a government job, postal work usually comes with a decent salary and benefits.
6. Transcriptionist
If you have a good ear and solid typing skills, working as a transcriptionist might be just the right fit for you. Transcriptionists transcribe audio into text for a variety of clients, including those in the medical, legal, and other fields. Transcriptionists can also often enjoy the benefits of working from home since most transcription work can be completed remotely. As an added bonus, transcription usually involves a good amount of alone time, making it a great fit for those who get easily burned out on social interaction.
7. Security
No matter where you live, there are usually openings for security positions in your area. Security guards can also work in a variety of venues, from corporate office buildings to museums, to construction sites and old buildings. Many companies need security workers to cover night shifts, making it a great option if you're a natural night owl. There's also often a lot of downtimes to explore other interests, read, or listen to music.
8. Merchandising
Want to get in your exercise as you work? Merchandising could be a great career choice for you. Most big box stores need merchandisers to help unload trucks and stock items throughout the store. This is a great option for people looking for an active job without strenuous mental requirements. Shifts often involve early mornings and late nights and are great for those who like to work nontraditional hours. Even when you're struggling with mental health, the prospect of a low-stress work environment, lots of exercise and flexible scheduling could make a job in merchandising the perfect fit.
9. Small Businesses
If you're burned out of big business and the corporate world, consider looking for jobs working for a small business. While the wages might not be as high, most small businesses have a more intimate and personal culture and are more flexible with those struggling with mental health or other issues. When considering a job at a small business, it's important to look for people with whom you think you'll have a good fit. Small businesses also offer a variety of employment opportunities in nearly every industry and can be a great way to get your feet wet if you're looking to explore a new career.
10. Truck Driving
Fed up with your job and longing for the open road? Truck driving could be a great opportunity to explore a new career as well as different parts of the country. Professional truck drivers are consistently in high demand and can find work in a variety of industries. If you enjoy exploring new places, getting to pick out your favorite tunes, and working largely by yourself, truck driving is a great job option. Most truck drivers need to attend school to learn how to operate their vehicles and pass a test in order to obtain a CDL license.
11. Computer Programming
If you have a technical frame of mind and are good with computers, computer programming might be a promising career alternative for you. Computer programmers are consistently in high demand, and often make high wages relative to other professions. There are plenty of online resources for learning to code, as well as a variety of boot camps and degree programs. For those just starting out, consider creating a simple app or game to test your skills, or volunteering for local businesses to boost your resume.
12. Tutoring
For those who excel at academics and enjoy helping others understand complex concepts and perform better in school, tutoring can be a great career option. Tutoring often pays well, and usually offers flexible hours in the afternoon, evenings, and weekends. If you have a particular academic specialty, you can often charge higher rates. School programs and tutoring agencies are often a great job opportunity for those who want a steady stream of vetted clients and hassle-free payment.
13. Freelance
Ever wanted to work from home? Freelance work can be a great way to enjoy the flexibility and perks of remote work while making your own schedule and working when it suits you. There are freelance jobs in a variety of industries like writing, design, computer programming, transcription, and administrative work. Once you build up an established client base, you can enjoy a steady income while being your own boss. When you're struggling with mental health, the freedom and flexibility that a freelance career offers can be the perfect antidote to workplace blues.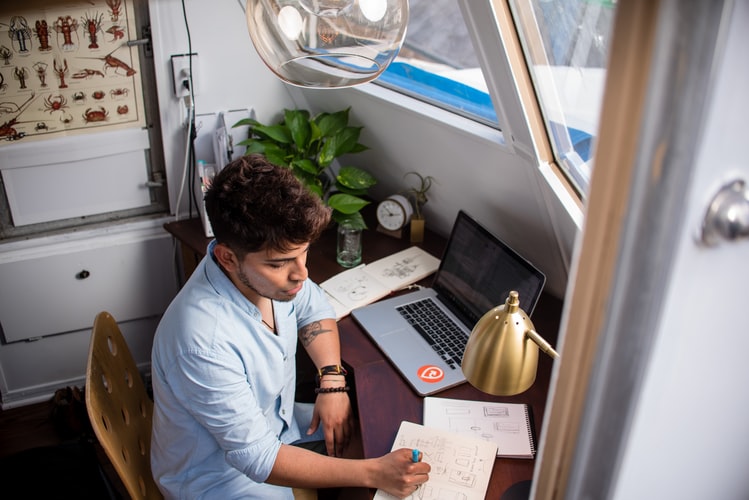 Source: unsplash.com
14. Make a Hobby a Career
If you have a hobby you'd like to take to the next level, there are often job options that match up well with skills you've already developed on your own. Turning a hobby into a career is a great option for those who are passionate about a topic or activity and want to explore it further. Whether you're really into gardening, books, baking, carpentry, fitness, or any other topic, there's usually a career niche for you.
One great option is to work for organizations that teach people how to master your particular skill. For those who craft or create physical items, you can sell them online at places like Etsy. While making a hobby into a career might still be work, it's usually a rewarding endeavor that plays to your strengths and allows you to explore things you're already interested in.
15. Start Your Own Business
Want to be your own boss? Consider becoming an entrepreneur and starting your own business. While there might be stressful aspects to embarking on a new adventure like this, it can often be the perfect antidote to frustration with the corporate world. When struggling with mental health, working for yourself doing something you're passionate about can also give you the inspiration you need to do meaningful work. Starting your own business can also give you the freedom you need to work when you're able to and to take time off when you need it.
Motivation to find Jobs for People with Depression from BetterHelp Counselors
Sometimes even if you have the perfect career, depression can make it difficult to work. You may struggle to get out of bed at all or find that your job performance is suffering. This can cause a lot of added anxiety and stress as you may worry about losing your job. If you're struggling with depression and it's impacting your daily life, it's time to reach out for help. Depression is a treatable condition that has many treatment options available. One of those options is therapy. A therapist can help alleviate your symptoms of depression, and provide you with resources and advice for your job search needs. BetterHelp has online therapists that make it convenient for you to get the help that you need from a licensed counselor. You can read reviews of some of our counselors below, from people experiencing similar issues.
Counselor Reviews
"Diane has been a huge help for me in overcoming my anxiety and depression. She is understanding and offers a variety of ways to improve my perceptions, and how to work through my problems in real life. I can't recommend her enough!"
"Colleen has been an intricate part of my healing and I know that I would not be as successful as I am without her encouragement, support and advice. She is always there when I need her without hesitation and fully understands the goals I have and the challenges I face. She has wonderful techniques in helping me release and cope with stress and anxiety and it has greatly reduced my depression. Colleen is an absolutely fantastic therapist and I can't recommend her highly enough!"

Conclusion
You don't have to let depression stand in the way of your career success. The jobs listed above are great options to choose from along with working directly with a therapist for support. No matter what you're going through right now, with the right tools, you can move forward. Take the first step today.
FAQs
What is the best job for someone with anxiety?
This is a little subjective, as a good job for someone with anxiety can depend on the person. People's anxiety gets triggered by many different factors. Someone may not get anxiety when they work with a bunch of people but may get anxiety if they work with just one person.
Jobs
For many, though, a regular job that's anxiety-friendly tends to be one where you're alone. Here is a brief list of jobs that give a few examples:
Any job that lets you work from home. With no commute and no coworkers, you're far less likely to develop anxiety.
A job that allows you to work alone for the most part. An accountant, computer programmer, or writer, or similar job.
Artistic jobs are great for people with anxiety. It can relieve your anxiety by giving you an outlet to express yourself, and being creative is a mindful process that can keep your mind off feeling anxious.
These are just a few examples. We recommend looking for some jobs near you or online that won't trigger your anxiety. In some cases, you may want to talk to a therapist about your job anxiety.
What mental illness keeps you from working?
Many mental illnesses can make it more difficult to work, but some can prevent you from working at all. In many cases, it's not a single mental illness itself, but the severity of it. Let's give you a few examples.
Depression. If you feel depressed or glum from time to time, it won't prevent you from working. However, major depression is another story. When you find it difficult to get out of bed, it can have a major impact on your ability to work. If a job is causing your depression, it can ironically prevent you from working.
A mental illness that impairs cognitive function. If you have to focus on your job, but your mental illness doesn't allow it, it can prevent you from working.
Severe mood swings. If you're prone to sudden anger, this may make you unable to work. When you look fine one second and then scream at your coworker for no good reason, you're not going to be in the workplace for long.
These are just a few examples. In most cases, you can still work with a mental disorder, and if you can't, you may need a couple of years of documentation in order to apply for disability benefits. It can be more of a challenge to apply for mental health disability, as these disabilities are often invisible. Sometimes, you may even "pass" as "normal" to the person who interviews you about your disability, and it may be denied. For example, people with major depression may have a good day when they apply for disability.
What are Challenges in a Job Search Related to Your Mental Health?
Young adults and other people that struggle with depression or another altered mental state often have trouble just getting out of bed in the morning, let alone mustering the energy to look for a job. If you're experiencing depression only during the winter months, you may have seasonal affective disorder (SAD), where your depression worsens when you're deprived of light. There are helpful treatments available for SAD. Another way to approach your job hunt is to look for jobs where you can work during the seasons that you feel most healthy and well.
From a clinical mental health standpoint, substance abuse and mental health disorders are often related. As you look forward to getting your first job or returning to work, it's vital for you to seek out the proper mental health services to avoid the risk of substance abuse and mental health problems.
On a positive note, high stress jobs can lead young adults and other people experiencing depression to mental health services and evidence based treatment, including support groups.
What can I do about my job anxiety?
Some people have job anxiety. This is a little different from your normal case of anxiety and depression. Job anxiety can involve anything related to a job that makes you anxious. This includes:
Anxiety over applying to a job. You may be worried that you'll mess up the application, or that you won't be hired.
Anxiety over being late to your job. This may lead to insomnia or getting up extra early when you don't need to.
You may be afraid to go to the workplace due to another factor, such as a bad coworker or a tough boss.
Your job could involve speaking to people. These types of jobs are not ideal for people who have anxiety, but sometimes, they're the only jobs you can choose.
There are many reasons why you may have job anxiety. Here are some things you can do about them.
Learn mindfulness. Every time a self-defeating thoughts gets into your mind, learn to discard it. Practice meditative breathing to get your mind off it, or learn how to focus on the present.
Remove the cause. If a coworker is giving you trouble, report them or ask to be moved.
Change your bedtime, so you have plenty of time to get up and go to your job.
Try a job that doesn't involve leaving your house. Plenty of white collar jobs are doable from the comfort of your home. Household jobs can reduce your commute, give you more privacy, and you can work from your own comfort zone.
How can I get experience without a job?
Teens and young adults tend to run into a paradox, where they need a job and the job experience, but they don't have job experience to get the job. It's the ultimate catch-22 that many have joked about, but it's frustrating. Here are some ways to get some experience.
Translate your experience. If you're applying for a job, think of some experiences that could translate into something relevant for your job. If you're applying to be a cook, for example, talk about your home-cooked meals.
List your soft skills. Soft skills are skills not listed on the job, but they could be relevant. For example, if you're good at keeping a conversation, talk about how often you engage with people.
Try some freelancing jobs. If you have a skill, like art, writing, or another marketable talent, freelancing websites can help you get experience. When you don't have a huge portfolio, you may have to work for cheap, but it can help build experience.
While not the ideal job for many, doing some volunteer work is the perfect way to show you care for your community and to help you get job experience.
Internships in college are good, too.
Since every situation is different, speaking to a job counselor about finding a job or finding experience when you don't have either is a smart move to make. Pro bono, college counselors, or sliding scale counseling is available if you don't have much money to spend.
Contact BetterHelp
For more information on where to find a therapist that can help you, you can reach out to contact@betterhelp.com. You can also find us on LinkedIn, Twitter, Instagram, Google+, Facebook, YouTube & Tumblr.
Read more from BetterHelp about Jobs for People with Depression & Mental Health:
If you are in crisis or want to learn more about mental health, do not hesitate to call the hotlines below: