Movies and books have done a good job of perpetuating the notion that if you love someone long enough, deeply enough, and stubbornly enough, they'll eventually love you back. Only a few literary examples show how devastating not getting over unrequited love can be. Yet, forgetting about someone you would like to have a relationship with can seem impossible. There is hope, though, and you can start by taking a good, long look at the would-be relationship.
Recognize The Dangers Of Unrequited Love
Loving without hope of reward can affect your mood dramatically, leading to bouts of depression, anxiety, and even out-of-control euphoria. In the most extreme cases, people have taken their own lives to escape the pain of unreturned love. (Note: If you or someone you know are experiencing thoughts of suicide, reach out for help immediately. The National Suicide Prevention Lifeline can be reached 24 hours a day at 1-800-273-8255.)
Even if you manage to avoid mood problems, focusing too much on another person can cause you to neglect your friends, your family, and your job. It can also keep you from seeing someone who might be a better match for you as an alternative to the misery you're in.
When unrequited love goes too far, it can really start to damage your life. When you are trapped in a situation like this, then you want nothing more than the love and acceptance of the person whom you have feelings for. You cling to the hope that they will see you and start loving you back if you show them enough affection or are patient enough. This almost never works out well and it often leads to severe mental trauma.
There are even times when the person could take advantage of your nature. Allowing yourself to be used by another person who is simply toying with your emotions is not good. It is just going to leave you feeling sad and unfulfilled. Instead of focusing your love and devotion on someone who can't return those feelings, you should be trying your best to move on so that you can find true love. It is easier said than done sometimes, but it is something that you need to try to find the strength to accomplish.
Look For Evidence
Most people seeking love in a one-sided relationship spend a great amount of time and effort trying to find evidence that the person they love also loves them. They tend to seize on any possibility of hope and ignore signs that the person doesn't love them. If you're committed to getting over your obsession with the other person, take the opposite route. Rather than looking for signs they love you, search for indications that they don't. If you gather enough information and gain enough insight to understand that they'll never stop rejecting you, your fascination with them may well be over and you'll be able to move on.
Admittedly, it can be very difficult to face the truth of the situation. Knowing that someone whom you care for deeply does not feel the same way can be very harmful to your pride and your heart. Even so, you need to be able to recognize the truth in order to move forward with your own life. If your romantic interest shows no signs of affection towards you or if they seem to be using you in a selfish way, then your continued interaction is only going to be unhealthy.
It can also help to get the opinion of someone objective whom you can trust. If someone completely honest can look at the situation and clearly tell you that your desired relationship is not going to go anywhere, then you should likely respect their opinion. As tough as it may be to move on, it is going to be in your best interest. Gather your courage and your strength so that you can face the truth and move towards happier relationships that actually are fulfilling.
Attend To Your Own Life
It may seem romantic to live for someone else, but to be emotionally healthy, you need to put your own needs first. Even if you were in a good relationship, it would always be best to attend to your own life rather than leaving it for someone else to fix. As you concentrate on being the hero of your own story, your feeling that you need the other person to live will eventually go away.
A relationship is something that has the potential to improve your life, but you should want to be the best version of yourself first. After all, it's awfully hard to give someone your full love if you haven't figured out how to give that to yourself. Taking time to focus on yourself, learn who you are and what your needs are, and to get to an emotionally secure place will enable you to be better able to have lasting and fulfilling relationships in the future.
Taking a little time away from the idea of a relationship may be healthy for you. It can help you to gain perspective and you will be able to feel a whole lot better after some time has passed. Spend time with friends when you can and focus on the other things in your life that make you happy. If you have hobbies, then try to enjoy your spare time by focusing on them. Your heart will heal over time and it will be stronger for when you do find someone who loves you back.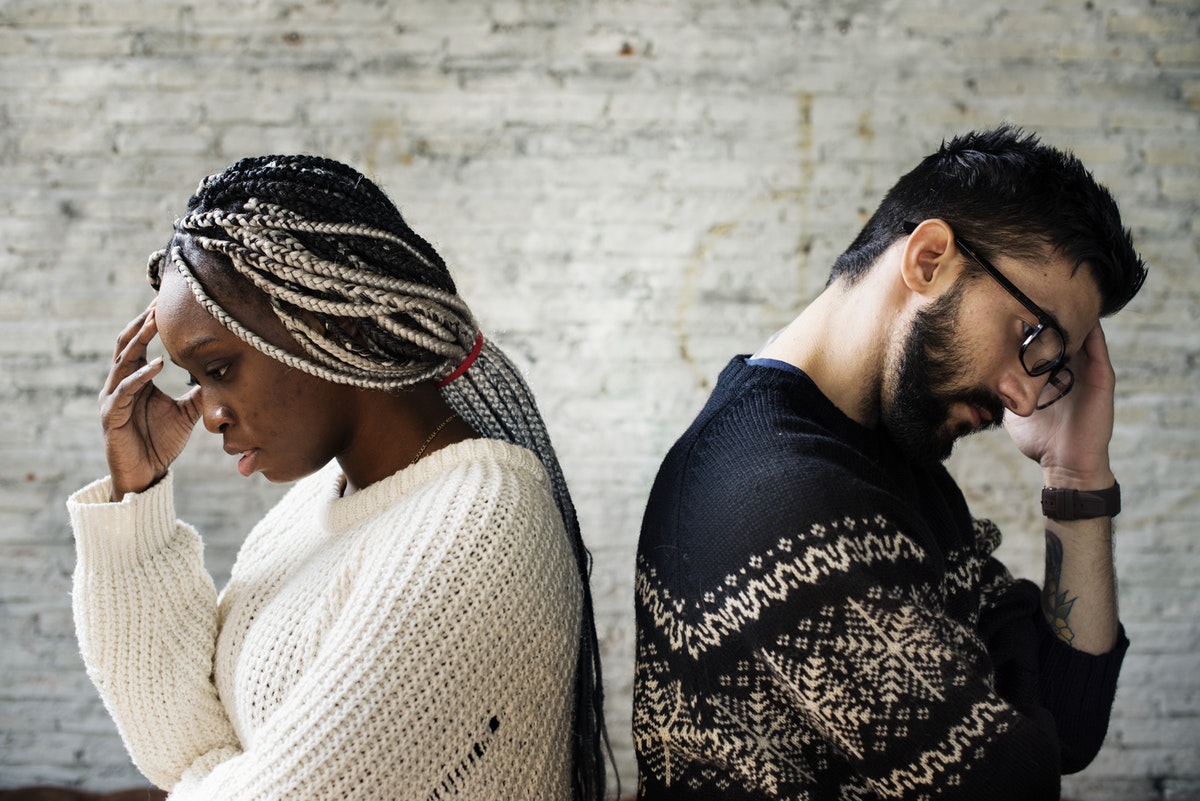 Help for Getting Over Unrequited Love
Unrequited love is a type of obsession that can be extremely difficult to get over. You may find that despite your efforts to move on, you feel powerless to change the way you feel. Talking to a therapist can help you put your unreturned feelings of love in the past. The right counselor will help you see the futility of holding onto a lost cause without making you feel like you're a bad or defective person for feeling that way. With the right support and guidance, you can create a life for yourself that's fulfilling and meaningful for you.
Working together with an online counselor can help you to move on with your life. They will help you to learn how to recognize potentially good relationships, and potentially unhealthy or toxic ones. This will allow you to avoid a similar problem in the future and it can help to mend your heart after experiencing unrequited love. You can find love and happiness, and an online counselor will do their best to ensure that you approach things in a healthy way next time.
Online therapy has been found to be just as effective in the medium and long term as face-to-face therapy. In fact, one very in-depth study reviewed 373 other studies exploring the efficacy of online cognitive behavioral therapy. Their results found it to be just as effective, and sometimes more so, as in-person therapy for treating a range of conditions, including depression, anxiety, relationship troubles, OCD, PTSD, mood disorders, phobias, and many others.
The reason why BetterHelp is not only so effective but also is preferred to conventional therapy by 94% of users are the same reasons found in the study: online therapy removes many of the barriers that are in place with in-person therapy. For example, online therapy is much more readily available to those living in rural areas and those with busy, non-conventional schedules than in-person therapy. Additionally, the online nature makes it highly accessible as well as cheaper overall, as clients don't have to commute or secure transportation to and from sessions, and our therapists don't have to raise their prices on account of needing to rent office space like they would for conventional therapy. Sessions can be conducted anytime, anywhere – including the comfort of your own home!
Continue reading below to find reviews of some of our licensed and experienced therapists, from people seeking help with similar issues.
Counselor Reviews
"Missy has truly been a God sent angel! Through our many conversations over the last several months, she has been so kind, encouraging, transparent, and has truly been such a positive light in my life. After becoming a young widow then loosing my mother to cancer, I had thought I would never experience healing. Missy has helped me develop many skills to be able to better cope with my grief, depression, and anxiety. Through her challenging me and her insightful perspective, I have felt better than I have in 4 years and embracing the new version of myself that has blossomed after experiencing great traumatic loss. Missy, thank you from the bottom of my heart for all of your kindness. I praise God for this new exciting chapter and I am so thankful for you helping me turn the page. ❤"
https://www.betterhelp.com/missy-heath/
"In the last 7 months or so, Lois has really helped me in reshaping my perspectives on my relationships and my involvement in them. I have seen a great deal of personal growth occur through her attention and guidance. I have been able to understand where my struggles had come from and deal with difficult ideas like blame and guilt. I'm very grateful for her time and attention and I'm confident that my personal relationships will be stronger and healthier as a result of working with Lois."

Conclusion
You may not feel like you will ever heal if the wound of unrequited love is still fresh. Just know that time and therapy can make a huge difference. Healing is something that can help to prepare you for true love and it is worth seeking out. Make contact today so that you can move on towards a brighter tomorrow.