What Is Occupational Therapy And Its Types?
By Julia Thomas
Updated January 02, 2019
Your occupation is what you do. People usually use the word to refer to their job. However, occupation in this case, that isn't exactly what it means. Occupational therapy may sound like something you do for a job, but it's really so much more basic than that. This field of therapy has many similarities to physical therapy. There are many different specialties in the occupational therapy area. Yet, it's goal is always to allow you to do the things you need to do to take care of yourself.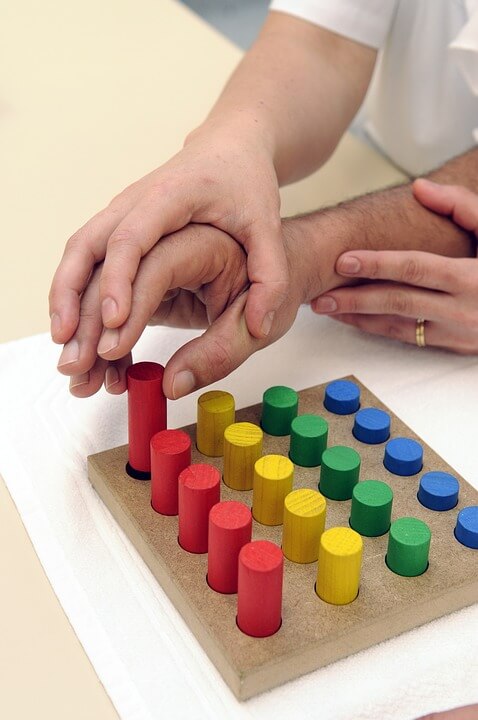 Source: pixabay.com
What Is Occupational Therapy?
By now, you might be wondering, "What is occupational therapy, anyway?" OT is a type of therapy in which the therapist helps the client gain or regain skills for their everyday tasks. These occupations may happen in the home, a nursing home, or in the community. For example, you may need to be able to drive and go to the grocery store. Occupational therapists can help you learn or relearn those skills, so you can live independently. A geriatric client in a nursing home might only need to do simpler tasks, such as grooming, socializing, and walking without losing balance.
What Are Activities of Daily Living?
An accurate occupational therapy definition necessarily needs the phrase "activities of daily living." Activities of Daily Living (ADL) is a specific list of occupations, or tasks, that the person needs to do to be able to manage their daily lives. They include:
Eating
Bathing
Toileting
Transferring (being able to move in and out of bed or a chair without help)
Maintaining continence (having control of your bladder and bowels
Other activities may also be included in your occupational therapy program as well. These additional tasks may fall under Instrumental Daily Activities, which can include:
Community mobility
Safety procedures
Finally, other tasks are considered important enough to be routinely included in occupational therapy, such as:
Education
Leisure
Work
Play
Social interaction
Occupational Therapy Vs Physical Therapy
OT and PT share many of the same goals and attributes. Both are educators and trainers. Both help you perform daily living functions. Both may help you heal from injuries and then avoid injuries. Yet, each type of therapy has its own focus. The sessions are different in PT than they are in OT, as well.
The difference between physical and occupational therapy is sometimes subtle and sometimes obvious. The biggest difference is that the goal of physical therapy is to strengthen the muscles, while occupational therapy's goals is to make it possible for you to take care of yourself, whether that is physically, mentally, socially or in some other practical way. Of course, those daily tasks are much easier to do if your muscles work as effectively as possible. Therefore, the two types of therapy are often used for the same client during their rehabilitation.
What Happens in OT?
Occupational therapy sessions consist of education and training. The training may be on mental tasks or physical strength, coordination, and balance. The therapist may teach you about how to interact socially and help you practice doing so. Whether the task is simple to understand, such as bathing, or requires complex thinking, such as driving, the therapist explains what you need to know to do it given your physical and/or mental condition. Eventually, you practice doing that skill until it becomes easier or you and the therapist find a different way to solve your ADL challenge.
OT's Who, When and Where
Who
Occupational therapists and their assistants, occupational therapy aides, work together to provide the treatments. Who receives treatment? Anyone of any age who has any physical, mental or social limitations that stop them from accomplishing their tasks of daily living well enough to live the best life they can.
When
You may need occupational therapy at any time in your life. You might go to OT if you're a child and a doctor, therapist or social worker determines that you have a mental or physical condition that will limit your functioning. If you become disabled, your doctor might recommend occupational therapy at that time or soon after. Your gerontologist might send you to occupational therapy if your mental or physical capabilities are beginning to diminish because of your age or age-related conditions.
After an injury, you might be referred to OT after you've already been in PT long enough to build the strength needed for your ADL. Then, in occupational therapy classes, you learn the practical aspects of doing the activities of daily living and get practice doing them.
Where
Occupational therapy programs can be found in hospitals, psychiatric facilities, schools, workplaces, in clients' homes, medical clinics, nursing homes, rehabilitation centers or an independent occupational therapy facility. The actual sessions may be carried out all in that location, or may be done in the client's home or in the community.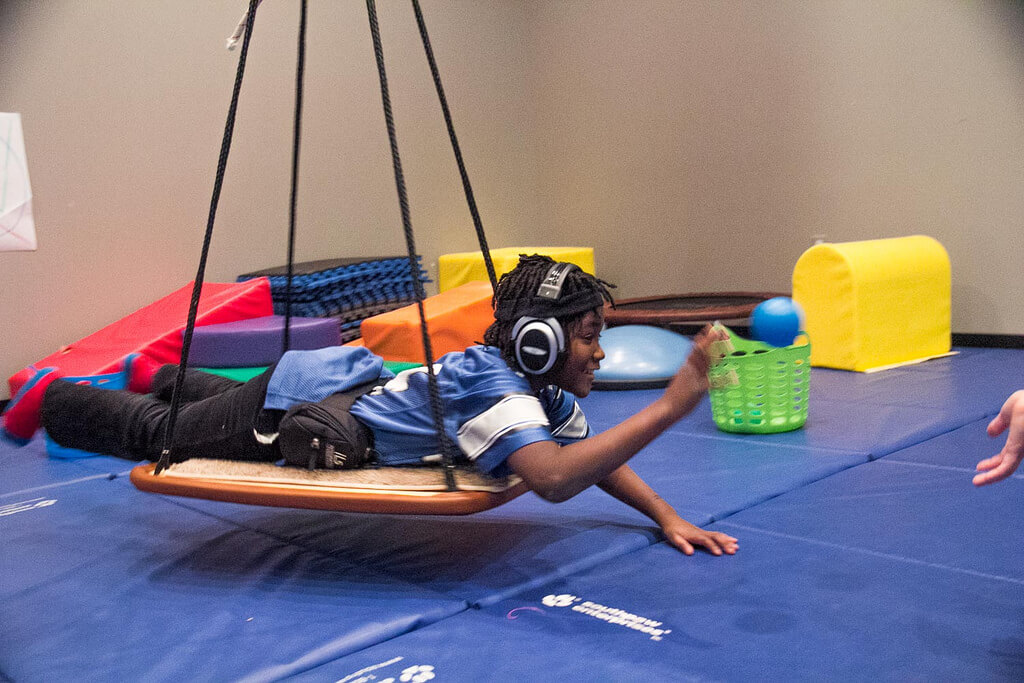 Source: flickr.com
Occupational Therapy Assessments
Your first session in occupational therapy is typically an assessment. The occupational therapist goes through the list of Activities of Daily Living. They ask you about any problems you have in doing the ADL and may go on to ask specifics about how you do them. For instance, they might ask you if you have any problems with eating. You might respond, "no," thinking that you can put food in your mouth and swallow it, so eating is fine. Then, the occupational therapist asks specifics such as "Do you cook your own meals? Do you buy your own groceries? Do you have someone who does these things for you?"
Another part of the assessment is to gauge your motivation and find out what you would like to be able to do. You might not be physically and/or mentally fit enough to do everything you would like. Or, it may be questionable whether you can or not. The important thing is to set reasonable goals and remember that you can always set new goals after you conquer the current ones.
The therapist might also request that you perform certain activities. They might request that you get up and down from a chair or bed, so they can observe any difficulties you might have, for example. After they've completed their occupational therapy assessments and before your next session, they write up the assessment. Next, they create a treatment plan. At your second session, the therapist typically goes over the treatment plan with you and may begin working with you that same day.
Occupational Therapy Activities
OT activities can be interesting. However, if you don't know the point of them, it may be difficult to stay motivated. Your occupational therapist can tell you the purpose of each exercise or activity, and probably will even before you ask. Even better, most of the activities have an element of fun.
Some of the activities require special equipment, although most of it is fairly inexpensive. Still, the more you can accomplish while you are going to your sessions, the less you may have to buy later to continue improving on your own.
Activities can promote physical strength, mental competence, and social ability. You might work on your gross motor skills with one activity and your fine motor skills with another. You could play games that enhance your ability to react more quickly. Another activity may help you follow directions more closely. Your occupational therapist has a myriad of choices for helping you achieve your Activities of Daily Living more easily and more competently.
Occupational Therapy Tools Online
The online resources available for occupational therapy have increased tremendously in recent years. Occupational therapy tools online for children have increased the most. You can find games, exercises, puzzles, charts, books, equipment and suggestions. Here are a few of the resources available:
Tools for Children
https://www.toolstogrowot.com/
https://www.therapyshoppe.com/
http://www.theottoolbox.com/2015/09/31-days-of-occupational-therapy-with.html
OT Tools for Autism
https://www.nationalautismresources.com/sensory-ot/
For Any OT Clients and Their Caregivers
https://otconnections.aota.org/aota_blogs/b/pulsecheck/archive/2015/01/26/75-occupational-therapy-tools-that-cost-less-than-1-for-pediatrics-amp-geriatrics.aspx
OT Evaluations
After you've been in occupational therapy for a specified period of time, your therapist performs an evaluation to find out how far you've progressed. The evaluations are similar to the occupational therapy assessments in the way they're conducted. After the therapist completes the evaluation, they then adjust your treatment plan or create a new one. This ensures that you stay with the tasks you haven't yet conquered but advance when you're ready. Your occupational therapy program might change, but the goal is still to get you up to doing your activities of daily living.
Types of Occupational Therapy
Because occupational therapy is used for people of all ages, in many different circumstances, and for a wide range of challenges, occupational therapists can choose from any of a large number of occupational therapy specialties. Some of them are listed below.
Pediatric Occupational Therapy
Pediatric occupational therapy. When you read that, you might wonder why. Why would there need to be occupational therapy for children? There are several reasons a child might need OT.
For developmentally disabled children
For children with ADHD
For young people with mental disorders such as depression or schizophrenia
For children with low vision or poor hearing
For children who have been injured
For children who have been abused or neglected
For children who have trouble in school
For children with learning disabilities
Children as young as 2 years old can benefit from occupational therapy if they need it. Whatever their age, whatever challenges they face in doing their ADL, the occupational therapist can help them succeed.
OT for Autism
Occupational therapy autism is a specialty where therapists may work with children, adolescents, and adults. Sessions may take place in a school or daycare if the client is a child. For adults with severe autism, the sessions may take place in an adult day care. Occupational therapists who specialize in autism treatment are specially trained to help their clients overcome social and communications difficulties as well as participate in their activities of daily living.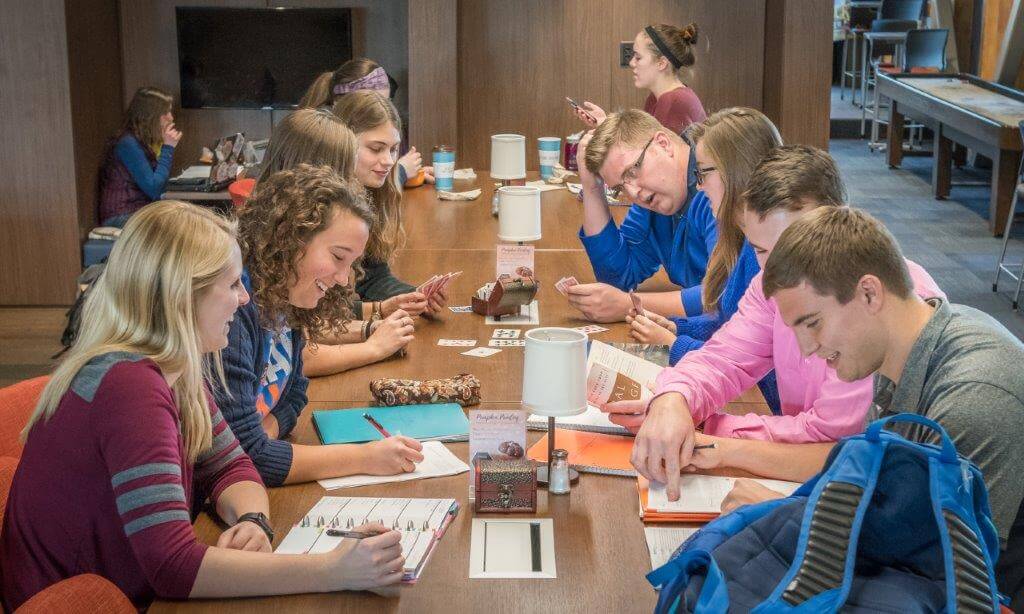 Source: Wikipedia.com
Geriatric OT
Geriatric occupational therapy is usually focused on the most basic Activities of Daily Living. As people age, they may lose their ability to do everyday tasks that most of us take for granted. Chewing and swallowing, bathing, toileting, getting in and out of bed, and controlling our bladder and bowels may slowly become more and more difficult.
Others may need to relearn many skills after they're temporarily or partially disabled after a stroke. Also, OT can help older people stay independent in their own home for longer. It can help them deal with Alzheimer's or dementia, arthritis, or any of the other challenges older adults commonly face.
Occupational therapists not only help those who are losing their abilities due to age but also older people who have disabilities or injuries just as anyone else could have.
OT for Mental Health
Occupational therapy for mental health is a growing field. People with mental disorders such as anxiety/panic attacks, depression, bipolar disorder, schizophrenia, and other mental illnesses are referred to OT or take OT classes in a hospital setting. The purpose in their case is to learn better self-care and prevent relapse of symptoms later.
Physical Rehabilitation
Occupational therapists who specialize in physical rehabilitation usually work with clients who have been injured or are disabled. People who have been seriously injured usually need occupational therapy for some time before they can resume their normal activities. People who have always been disabled or who become disabled later in life can also benefit from OT. They may need to do things differently than most people do. The goal is to complete the ADL's in whatever way is best suited to their condition and situation. This specialty is not physical therapy, but it is usually used in conjunction with PT.
Driving and Community Mobility
Driving is such a crucial skill for many people that it's hard to survive in some locations without being able to do it. A driving and community mobility occupational therapist may teach disabled clients how to drive and/or use adaptive equipment. They may determine whether they are even able to drive and if so, advocate for them in court cases intended to take away their license. In the event that the client is not able to drive, the therapist focuses on other means of community mobility such as riding the bus or taking a taxi.
Environmental Modification
How disabled you feel has a lot to do with the environment you're in. If your home isn't well-suited to your condition, you can feel extremely helpless. Occupational therapists who specialize in environmental modification may look at your home, school, and/or workplace to determine if any modifications need to be done to support you in living, studying, or working there.
Once they see what you're dealing with, they can create a plan for the modifications. They can work with a landlord, principal, or home improvement company to insure the modifications are installed correctly to help you as an individual. Typical accommodations include:
Bathroom grab bars
Ramps
Wider doors
Special hardware such as flat door handles
Lower or higher kitchen counters according to need
Feeding, Eating, and Swallowing
Feeding, eating and swallowing specialists take care of these basic survival needs. Because of certain medical conditions or due to age, swallowing can become so difficult that people have to relearn how to do it. They have to focus on this in a way they've never had to before. Therapy involves both the physical skill of feeding, eating and swallowing, but also the social and cultural aspects of eating.
Low Vision
Low vision specialists in the OT field treat people who have low vision due to an eye disease or injury or brain injury. They help their clients procure adaptive equipment and teach them how to use it. They work with optometrists, ophthalmologists and other vision specialists.
School Systems Specialty
A school systems specialist in the OT field is just what it sounds like. It is someone who works in schools, whether that is a preschool, elementary, middle school or high school. They also help students who are making the transition to another school or from a school to the workplace.
Becoming an Occupational Therapist
Occupational therapy is a fascinating and rewarding career path. It is one of the fastest-growing occupations. When you consider salaries occupational therapy ranks high among the allied health fields. The mean salary for occupational therapists in 2014 was $70,000, while occupational therapy assistants got a mean salary of $48,000. Salaries for occupational therapists went up 8.2% from 2010 to 2016.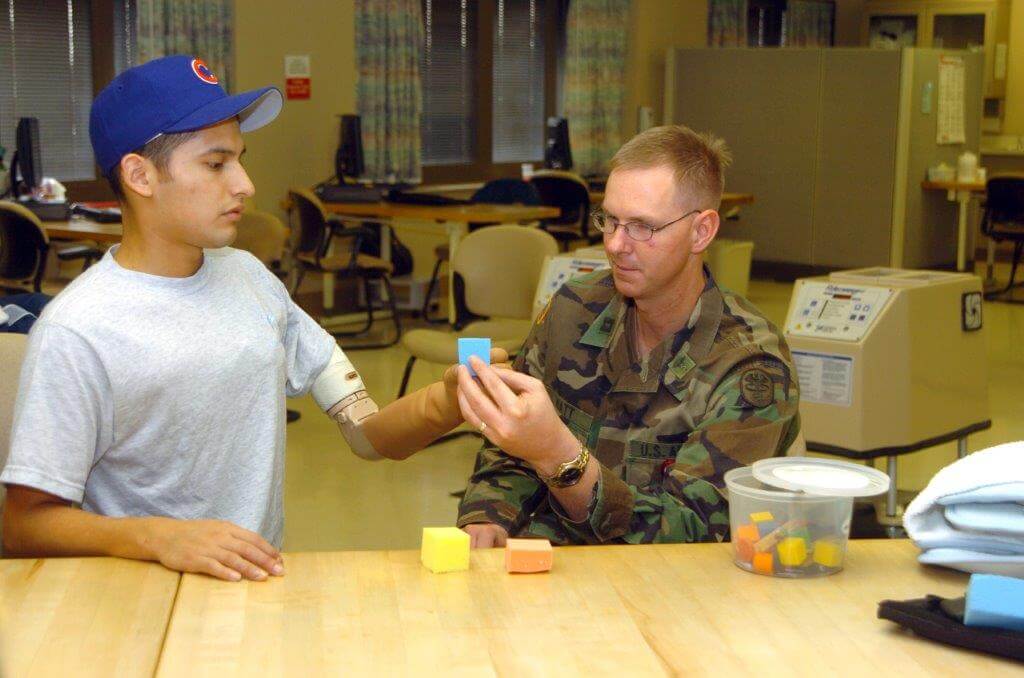 Source: publicaffairs.af.mil
If you'd like to make the most money, the best places to work are academia, home health, and skilled nursing facilities. You'll also want to choose your location in the Pacific, South Atlantic, or South-Central regions.
Yet, money isn't everything, of course. You may want to work in your hometown or in an exotic location. You might have a special interest that will lead you to a particular specialty. Right now, there are OT positions across the country with more than adequate compensation. Your first step is exploring your own interests and strengths to discover what occupational therapy might have in store for you. Once you decide, you're ready to explore all the wonderful occupational therapy programs available. You'll find a wide variety of online occupational therapy programs.
Where to Find Help
You might be asking at this point, "Where can I find occupational therapy near me?" In many cases, your doctor or case manager will set up your occupational therapy. Your insurance company may limit the occupational therapists they will approve to help you. However, in most cases, you do have some control over who you choose. Compare occupational therapy programs and costs to get the best help you can afford.
Help with occupational therapy concerns is as close as your nearest internet connection. Counselors at Better Help can talk with you about your plans to become an occupational therapist. They can help you narrow down your goals, learn more about yourself, and gain the confidence you need to move forward.
If you've been referred to an occupational therapist or have already started sessions, you might need someone to talk to about the reason for your condition that requires OT. Perhaps you're dealing with the fact that you can't do what others do. You might be in pain or discomfort. You might be experiencing depression or anxiety because of your condition or a trauma that caused it. Whatever the reason, Better Help licensed counselors are well-qualified to help you overcome emotional obstacles and follow your best path to independence and happiness.
---
Previous Article
Existential Therapy: What It Is And How It Works
---
Next Article
What Is Aversion Therapy And How Can It Help?
---
The information on this page is not intended to be a substitution for diagnosis, treatment, or informed professional advice. You should not take any action or avoid taking any action without consulting with a qualified mental health professional. For more information, please read our
terms of use.