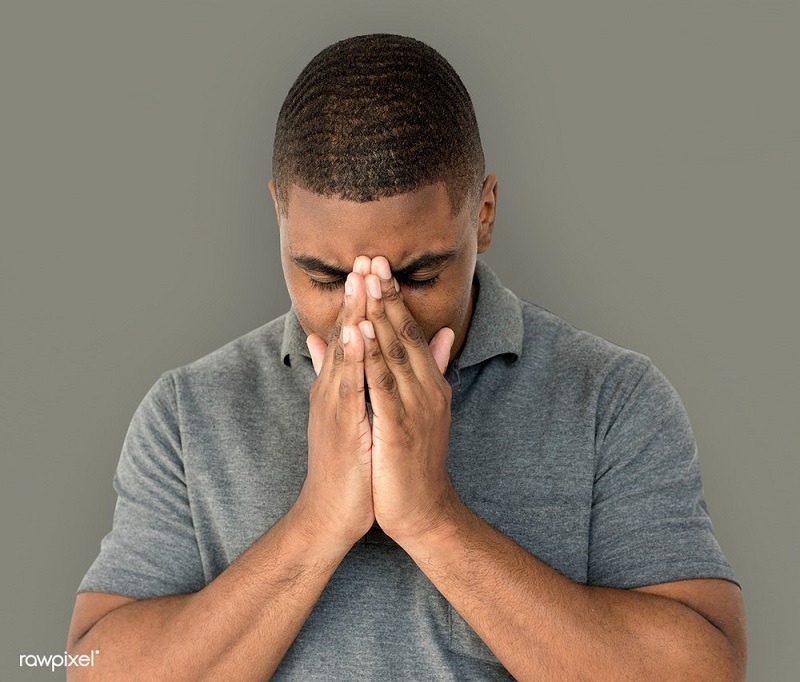 Should I Take The Beck Anxiety Inventory?
Source: rawpixel.com
The Beck Anxiety Inventory is an anxiety scale that is frequently used by clinicians in outpatient and inpatient settings. It is most frequently used in outpatient treatment by therapists, psychologists, and psychiatrists.
You can also find the Beck Anxiety Inventory available online to take the assessment on your own. If you are concerned that your anxiety is preventing you from living a full life, this inventory can help you see just how much your anxiety is affecting you. Once you have your score, you can contact a therapist to help you address your anxiety based on your results.
The Beck Anxiety Inventory is not foolproof, however. It takes into consideration the fact that many symptoms of anxiety are physical. However, these physical symptoms could also be caused by illness, disease, or chronic medical conditions that may or may not have been previously diagnosed. As such, it is rarely used in isolation as a diagnostic tool.
History Of The Beck Anxiety Inventory
The Beck Anxiety Inventory was developed in 1988 by Dr. Aaron Beck and some of his colleagues. Some changes were made to the scoring, and a revised version was published in 1993.
The Beck Anxiety Inventory was developed as a tool to evaluate anxiety without overlap with symptoms of depression. Before this scale, anxiety scales frequently included symptoms that could also be symptoms of depression. This made them unreliable. The Beck scale does not include symptoms typical of depression, so if a patient scores high on the BAI, it is clear that they are having a problem with anxiety specifically.
Evidence Of Effectiveness
Over the years several studies have been done to determine the effectiveness of the Beck Anxiety Inventory. Many of these studies were done soon after the anxiety scale was published. These studies evaluated the accuracy of the scale when used by patients who had already been diagnosed with anxiety disorders.
One such study compared the BAI to the Hamilton Anxiety Scale, which was used frequently at that time. The study, done in 1991, showed that high scores on the Beck Anxiety Inventory correlated directly to scores on the Hamilton Anxiety Scale, and was, in fact, effective in assessing symptoms of anxiety. The study found that higher scores were more common in patients diagnosed with panic disorders rather than a generalized anxiety disorder.
Another study was done in 1993 to determine the effectiveness of the Beck Anxiety Inventory as a means to gauge anxiety without crossover to depression symptoms. The study found that it was a very effective tool for outpatient psychiatric patients in gauging their anxiety without confusing it with symptoms of other psychiatric disorders that they had been diagnosed with.
Uses For Beck Anxiety Inventory
There are several uses for the Beck Anxiety Inventory that have been found to be effective in the treatment of outpatient psychiatric patients. The BAI can be used with all outpatient psychiatric patients, as many mental health disorders can produce anxiety as a symptom of the larger problem. However, it is, of course, most effective with those patients that have been diagnosed with anxiety or panic disorders.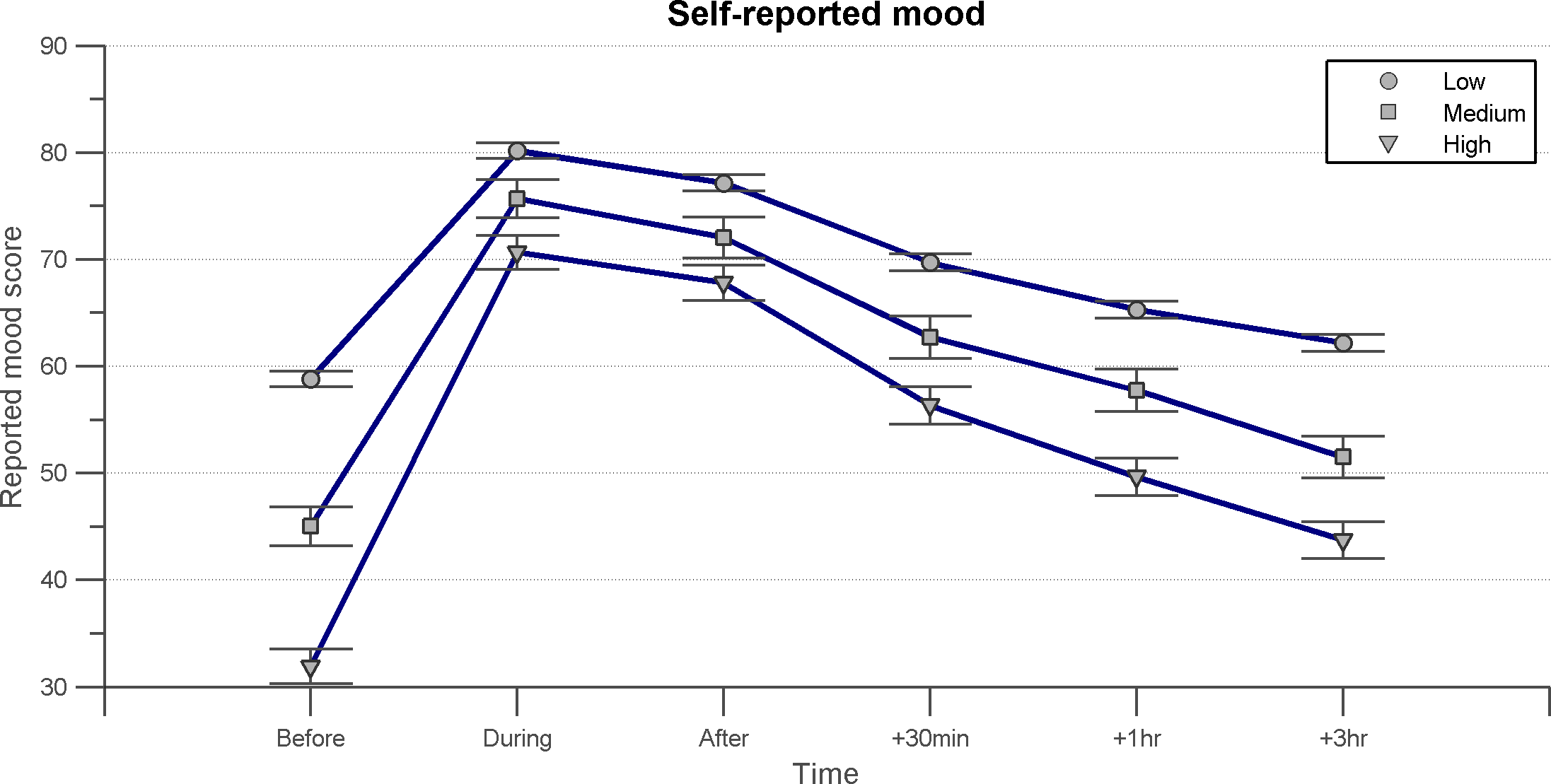 Source: commons.wikimedia.org
Treatment Planning
Treatment planning is an important part of outpatient psychiatric therapy. The Beck Anxiety inventory allows clinicians to see what anxiety symptoms are present and to what extent. Armed with this knowledge, they can develop a treatment plan that allows for remedying the anxiety that the patient is feeling. This can be helpful for all psychiatric patients, not just those seeking treatment for anxiety disorders.
Treatment Monitoring
Once a treatment plan is developed, treatment monitoring is important to ensure that problems are being addressed in such a way that symptoms are improving. Use of the Beck Anxiety Inventory at each appointment will give the clinician the ability to see if symptoms are improving or worsening. If symptoms are not improving, the treatment plan can be adjusted, and new methods attempted.
Treatment Outcomes Assessment
The Beck Anxiety Inventory can also be used to determine the success of outpatient therapy when therapy is ending. The BAI answered by the patient at the end of treatment can be compared with their BAI scores during the treatment planning and treatment monitoring phases. If the BAI at the end of treatment shows no progress in resolving symptoms or a worsening of symptoms, this could be an indication that further treatment is needed. Alternatively, it can provide evidence that the patient's symptoms have resolved successfully.
Diagnostics
Unfortunately, the Beck Anxiety Inventory is not an effective tool for diagnosing anxiety and panic disorders. This is because many of the physical symptoms of anxiety can be caused by many other problems, both medical and psychological. Clinicians do not use the BAI as a diagnostic tool, but rather as an assessment of symptoms after diagnosis or during treatment.
Scoring Of Beck Anxiety Inventory
The scoring of the beck anxiety inventory is fairly simple to calculate. For each item on the inventory, the patient chooses how frequently they have been troubled by the item in the previous week. The four responses they can choose from are:
0 Not at all
1 Mildly, but didn't bother me much
2 Moderately, it wasn't pleasant at times
3 Severely, it bothered me a lot
Once the patient answers all of the items on the inventory, the clinician can add up the score of the patient. A score of 0 to 7 is minimal anxiety, a score of 8 to 15 is mild anxiety, a score of 16 to 25 is moderate anxiety, and a score of 30 to 63 is severe anxiety. Again, this is simply an indication of how severe anxiety symptoms are for that week, and should not be used for a diagnosis of an anxiety disorder.
Instructions For The Beck Anxiety Inventory
Instructions for the Beck Anxiety Inventory may vary depending on who is providing the assessment. The original development of the inventory allowed for an evaluation of symptoms over the last week. However, many clinicians have adapted the BAI to change the instructions to evaluate the previous month. This is usually done when the patient is seen on a monthly basis.
The instructions for the Beck Anxiety Inventory are fairly straightforward. The inventory lists 21 common symptoms of anxiety. For each item on the list, the patient is instructed to indicate how much that item bothered them in the previous time frame of week or month. The scale is usually given with the instructions as well as shown with each item for ease of understanding the instructions.
Once the patient is done filling out the self-report assessment, the clinician will add up the points for their answers and determine the severity of their symptoms. This can then be used to determine treatment planning or treatment monitoring.
21 Points Of Beck Anxiety Inventory
There are twenty-one items on the Beck Anxiety Inventory. These items represent the physical and psychological symptoms of anxiety. Many of the items on the list focus on the physiological or psychosomatic symptoms rather than cognitive symptoms. As such, the BAI is often paired with the Penn State Worry Questionnaire, which is a more accurate representation of cognitive symptoms such as catastrophizing.
Numbness Or Tingling
Numbness or tingling could be present in the extremities such as the hands, feet, or legs. Tingling could also be present as a general symptom without a specific location, such as the feeling that all of your skin has a tingling sensation.
Feeling Hot
Frequently people who are experiencing anxiety have a rise in temperature. This can make you feel hot when you shouldn't be hot. For example, you may begin sweating from a feeling of being hot out of the blue while in a well air-conditioned room.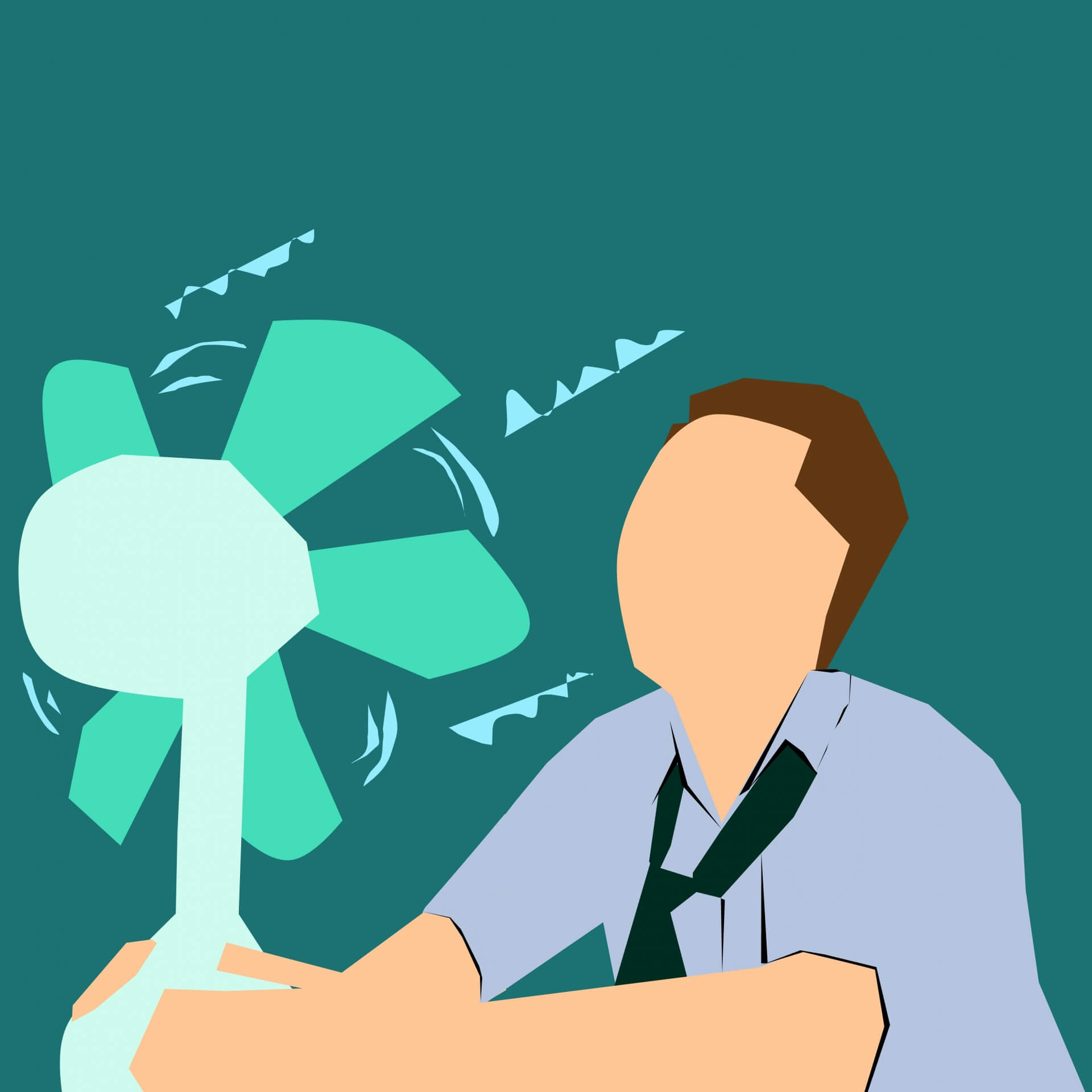 Should I Take The Beck Anxiety Inventory?
Source: publicdomainpictures.net
Wobbliness In Legs
Wobbliness in legs refers to the feeling that your legs are not going to hold you up. For example, you may feel that just standing is too much effort and that you may fall at any moment.
Unable To Relax
Being unable to relax is a clear symptom of anxiety. When you are unable to relax in spite of your best efforts, your anxiety may be playing a role.
Fear Of Worst Happening
When anxiety is in full swing, you may often feel as though the worst is bound to happen. Your thoughts become dominated with how things could go wrong with any situations that you face. This, of course, can make the other anxiety symptoms that much worse in turn.
Dizzy Or Lightheaded
Some people feel dizzy or lightheaded when they have high anxiety. The dizziness or lightheadedness may occur when you stand from a sitting position or sit from a laying down position. It could also occur out of the blue while already standing or walking. This is a feeling as though you might faint.
Heart Pounding/Racing
When anxiety is in full swing, the heart rate often rises. You will feel your heart pounding in your chest. Or, you may be able to feel the effects of your racing heart in the way that you feel physically. An increased heart rate can also make you feel short of breath and can cause other symptoms such as lightheadedness.
Unsteady
This item refers to the feeling that you are simply not steady on your feet or sitting down. You may feel wobbly or weak, or just not up to holding yourself in an upright position.
Terrified Or Afraid
People who have anxiety frequently feel terrified or afraid, sometimes for no logically discernable reason. You may also feel terrified or afraid of things that appear to be logical fears, but to such an extent that you are unable to function.
Nervous
Feeling nervous is a classic symptom of anxiety. You might feel nervous in some different situations, such as social situations. You may also feel nervous for other reasons such as financial stress or other common stressors. Nervousness may also occur for no discernable reason.
Feeling Of Choking
Some people who have severe anxiety have the feeling that they are choking. This is a restriction of the throat, where breathing may become difficult.
Source: flickr.com
Hands Trembling
Many people who suffer from anxiety notice that their hands tremble when they are nervous or anxious. Trembling hands are hands that are shaking badly enough that holding a pen or writing down a number is difficult.
Shaky/Unsteady
Again, this refers to the feeling that you simply cannot keep yourself upright. Your whole body may be shaking or feel as though it is vibrating. You may be unable to hold yourself in a standing position for very long.
Fear Of Losing Control
People with anxiety are often afraid of losing control. Because of the other symptoms and also because of the anxiety itself, people frequently feel fear that they will not be able to control themselves, their behavior, or what is going on around them.
Difficulty Breathing
Difficulty breathing is a common symptom of anxiety. Breaths may come in short, rapid succession. You may feel your chest or throat tightening and have difficulty drawing in a deep breath.
Fear Of Dying
People with severe anxiety often have the feeling of a fear of dying. While most people have a fear of dying, the person with anxiety thinks about and focuses their attention on this fear.
Scared
Feeling scared can occur at any time, for any reason. You may become scared of things that could never happen. Often people with severe anxiety feel scared even when their conscious mind is telling themselves that there is no logical reason to be scared, yet the feeling will not dissipate.
Indigestion
Indigestion is another symptom of anxiety. Anxiety can increase the acid in your stomach, causing indigestion. Severe and prolonged symptoms of indigestion could lead to the development of stomach ulcers.
Faint/Lightheaded
You may feel as though you are going to faint. Beyond feeling slightly lightheaded and unsteady, this item refers to feeling as though you are going to pass out. You may even notice the darkness of vision as your body tries to faint.
Face Flushed
A rise in body temperature or heart rate can frequently make your face flush. If you notice that your face is getting red when you are anxious or nervous, you would answer this item accordingly.
Hot/Cold Sweats
You may break out in a sweat if you are highly anxious, even if you are in a cold room. Sweating could be either hot or cold but is uncomfortable.
Getting Help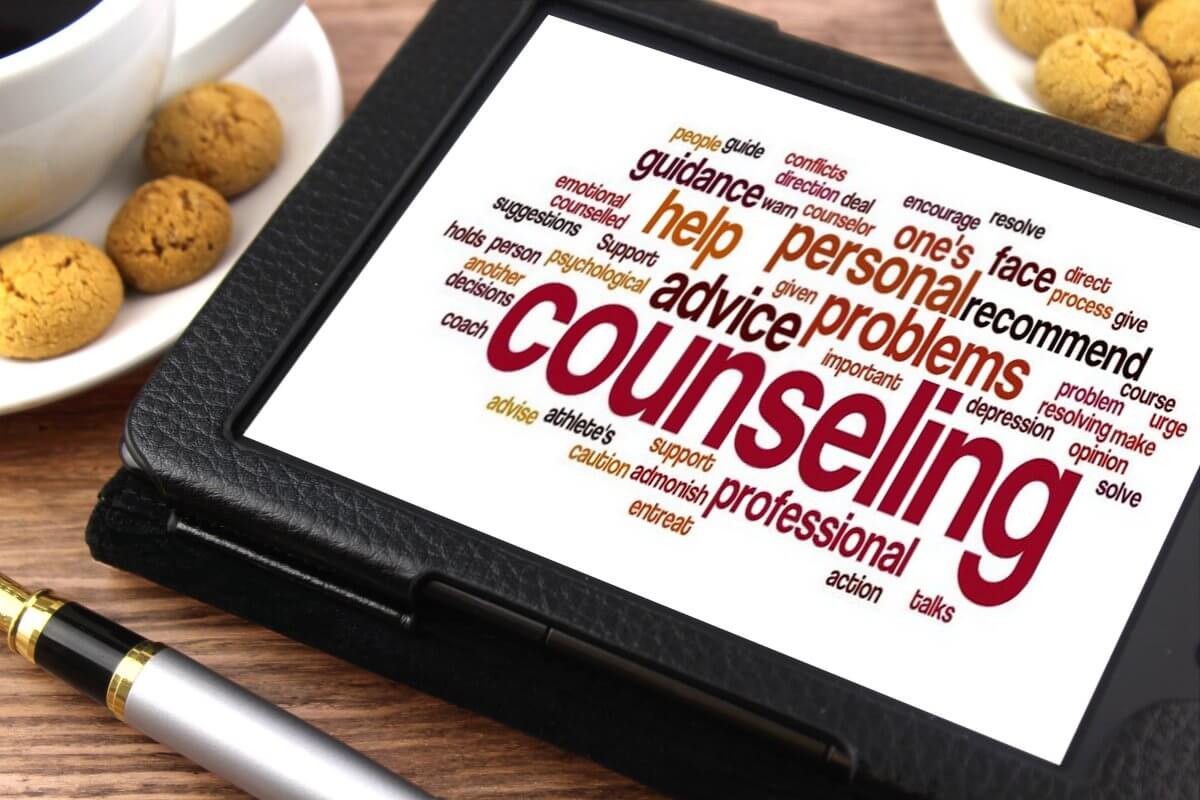 Source: thebluediamondgallery.com
If you take the Beck Anxiety Inventory and discover that you have moderate to severe symptoms of anxiety, you should seek help right away. Even if you do not take the inventory, but some of the items listed on the inventory do resonate with you, you should contact a therapist right away. A therapist can administer the BAI and other assessments to determine if you have an anxiety disorder, or if your anxiety is a symptom of another disorder.
Frequently Asked Questions (FAQs)
What does the Beck Anxiety Inventory measure?
The Beck Anxiety Inventory (BAI) measures the severity of symptoms of anxiety. It is not a diagnostic tool for anxiety but rather an assessment tool. The BAI has been found to be more effective in measuring whether a person is experiencing a panic disorder as opposed to a generalized anxiety disorder and even social phobia. The anxiety psychometric properties of the BAI do not measure anxiety and depression but instead the severity of anxiety.
Another measurement tool for anxiety is the Hamilton Anxiety Rating Scale. The Hamilton anxiety rating is based on a 0 to 4 severity level given for each of the 14 items. The Hamilton Anxiety Scale is not considered as specific as the Beck Anxiety Inventory. Like the BAI, the Hamilton Scale for Anxiety does not measure anxiety and depression.
"The Journal of Consulting and Clinical Psychology" found that the BAI was able to distinguish anxious diagnostic groups from nonanxious diagnostic groups. The BAI also showed "high internal consistency and test-retest reliability over 1 week."

How do you score Beck Anxiety Inventory?
There are 21 symptoms of anxiety listed on the Beck Anxiety Inventory (BAI) with a 4-point scale. With each symptom, you choose one of four answers that rate your level of anxiety. After all the numbers have been added (from 0-3 for each answer), the total score indicates the intensity or level of anxiety a person is experiencing. Rating the anxiety is as follows: 0 to 7 score – minimal anxiety, 8 to 15 score – mild anxiety, 16 to 25 score – moderate anxiety, and 30-63 score – severe anxiety.
The score from the Beck Anxiety Inventory by itself does not determine if someone has or does not have an anxiety disorder, such as social phobia or agoraphobia. The inventory for measuring assesses the severity of anxiety. After taking a test, a person can be retested during the course of treatment and after treatment to, again, assess the levels of anxiety and if there had been any changes. Additionally, adjustments to the treatment plan can be made based on the scores of the retests.

Who can administer the Beck Anxiety Inventory?
Mental health therapists and counselors, psychiatrists, and primary care physicians are some of the professionals who can administer the Beck Anxiety Inventory (BAI). You can even administer it yourself. The BAI can be found online for free.
Particularly in the mental health field, professionals will administer this test and consider other factors, such as your personality. Anxiety can be experienced by everyone. For some people, it's a temporary state, known as state anxiety. Other people experience anxiety in conjunction with how they view world – for example, scary and perilous. This is known as trait anxiety. Trait anxiety will require more of a treatment plan to help the person manage this type of anxiety.

What is the difference between BDI and BDI II?
The Beck Depression Inventory (BDI) rated a person's depression. Published in 1961, the inventory has 21 statements. The person who is thought to have depression chooses from a list of 3 to 4 answers. Each answer has a number or sometimes a number and a letter. The person answers in response to how they were feeling for the past week, and they can choose more than one answer.
The second revision of the Beck Depression Inventory (BDI II) was published in 1996. It, too, is a questionnaire with 21 statements and a rating scale from 0 to 3. The person chooses the answer(s) for how they're feeling today, going back 2 weeks. The higher the score, the more severe the depression.
The difference between the BDI and the BDI II is that the first one was more about negative cognitive distortions, while the BDI II isn't tailored to any particular theory of depression. The BDI II also changes in accordance with what constitutes major depression disorders in the "Diagnostic and Statistical Manual" (DSM IV). The BDI II has been translated into other languages and is used in other countries, sometimes with modifications to the test.
As with the Beck Anxiety Inventory (BAI), the BDI, including the revisions, do not measure anxiety and depression. Similar to the BAI, which measures the severity of anxiety, the BDI and the revisions measure the severity of depression.

How reliable is the Beck Depression Inventory?
The Beck Depression Inventory focuses solely on symptoms of depression and doesn't overlap with anxiety symptoms. The BDI can be accurate in detecting depression disorders in people who have mental or physical health issues, not just in those who experience depression. The BDI can be used as a screening tool to predict depression or assess severity of depression. In sum, the BDI is not a diagnostic tool but a screening and assessment tool. Additional factors are used in the analysis of whether someone has depression or not.
Retesting after taking the initial test is usually part of the treatment plan for depression. This lets the mental health professional know if the person with depression is making progress and to make any adjustments to the treatment plan.

How do I reference the Beck Depression Inventory?
Beck, A.T., Steer, R.A., & Brown, G.K. (1996). Manual for the Beck Depression Inventory-II. San Antonio, TX: Psychological Corporation.

Is the Beck Depression Inventory copyrighted?
The initial BDI, the revised BDI (BDI I-A) and the second revised BDI (BDI II) are all copyrighted.

What type of scale is the Beck Depression Inventory?
The BDI is a self-rated Likert scale. The person being screened or assessed for depression completes the 21-item questionnaire. Based on the score gathered from the 4-point scale, a prediction about the likelihood a person will experience depression is determined. Or, if the person already experiences depression, the severity level is assessed. The psychometric properties of the BDI II have been studied. It was found that for the most part the BDI II is valid (measures what it's supposed to measure), reliable (measurements are free from errors) and responsive (a person's condition can be tracked over a period of time).