Many us of feel intimated during our first counseling sessions. While this is completely normal, it doesn't have to be this way. One aspect of counseling that you might be confused or curious about is what your counselor is writing down. The use of counselor notes during a session is a topic which is generally regarded with questions, uncertainty, and even a degree of skepticism. Some patients are OK with note-taking. Others feel uncomfortable or as though the note-taking is a form of judgment or even disapproval from their counselor. Some people might simply feel uncomfortable knowing that their counselor is keeping records about them that they can't see. Many people wonder why counselors note-take, what counselors do with their notes, and so much more.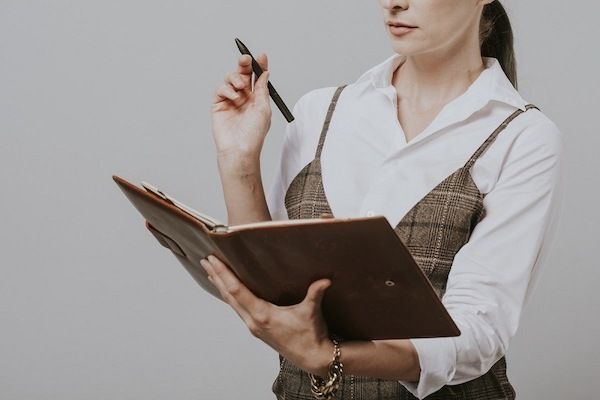 Do You Wonder Why Therapists Take Notes When You Talk To Them?
Before going into the reasons and purposes behind therapy notes, it's important to know that these should not make you feel insecure or bothered. It's normal to feel a bit of apprehension if your therapist is jotting down notes at certain points throughout the session. However, at the end of the day, the job of your therapist is to learn about you, what brought you to therapy, and how they can be of support to you.
Of course, understanding the purpose of therapy notes and why therapists take them will considerably decrease the tension and uncertainty which is commonly associated with therapist notes.
Why Do Counselors Take Notes During Therapy Sessions?
It turns out that there are many reasons why therapists take notes. There are also a variety of purposes that therapy notes serve, and they can come in many forms. By carefully reviewing and examining the reasons why therapist notes, people can not only learn but also have a clearer understanding of these notes, and their therapists.
Issues Which Patient Is Experiencing
One of the most common reasons behind therapist notes is the need to document the issues which the client is facing. The longevity, regularity, and the nature of various plights are important for therapists to be aware of. In certain professional circles, this reason is referred to as the "symptom history." The symptom history largely pertains to steps which the client has taken to improve their situation, potential positive/negative factors, and more. In many cases, taking notes for this purpose can help therapists later as they work to help clients find the solutions and support that are most appropriate for their situation.

Therapy Concerns And Complaints
The concerns and complaints which patients have about their lives, situations, and other issues which brought them to therapy are often very critical for therapists to document. How a patient expresses their issues, or the vocabulary which is used, can often be very telling and informative. This is another reason why the therapist keeps records in the form of notes. It is not uncommon for a therapist to jot certain things down as the patient is discussing a problem or situation which carries significance for them.
There are certain times throughout sessions in which the therapist may have their concerns. Sometimes these concerns could pertain to the mental health of the client, a detail which was divulged during sessions, or more. The concerns of therapists should be taken with as much seriousness as the concerns of clients. There may also be certain issues of concern which therapists can uniquely pick up on due to their professional knowledge and experience.
Session Details, Patterns, Changes
When working with a patient, therapists and other behavioral health professionals have a series of responsibilities. These responsibilities include not only listening to the patient during sessions but also taking note of patterns and details which occur during sessions. This could be subject matter that is constantly brought up, how a patient chooses to articulate themselves, and more. If there are any unusual occurrences, such as missed sessions, or sessions which start earlier than usual or end later than usual, then this is something which therapists should take note of.
Mental Health Of Patient
Jotting down information regarding the mental health of the patient is something which therapists often do during and even after sessions. Of course, the quality of a patient's mental health should be improving as time goes on and with the passing of various sessions.
There are a variety of factors which can shed light onto a person's mental health; and how they talk about or handle certain subjects is a telltale sign. Taking note of a patient's mental health can help therapists determine how sessions are coming along, which strategies move the process forward, and what changes, if any, happen to be in order.
Counselors Are Actually Writing Things Down To Help Your Progress
Therapists take notes for the sole purpose of helping their patients and improving the quality of their lives. Therapists are not taking notes to make their clients uncomfortable or to create tensions. Sometimes, participants feel as though the therapist is judging them. In other cases, there is an understandable degree of curiosity where patients wonder, "what is my therapist writing about me?"
You Might Be Surprised To Learn That Only Some Therapists Write Things During Counseling Sessions
Believe it or not, there are certain situations in which therapists elect not to take notes during sessions with patients. There are various reasons behind this decision, but not taking notes while sessions are happening doesn't mean that your therapist is not paying attention. Sometimes, therapists don't take notes because they feel as though it wouldn't be appropriate for the manner of therapy which is taking place. Others simply don't want their patients to feel uncomfortable. There are so many questions and speculations surrounding therapist notes, but understanding that notes taking is not mutually exclusive to every therapist makes a difference.
It Is OK To Ask Your Therapist About What They're Writing?
There seems to be this unspoken and almost taboo association with therapist notes. Many patients who witness their therapists taking notes often wonder about the reasons behind the note-taking and yet feel uncomfortable with asking their therapist why they're taking notes.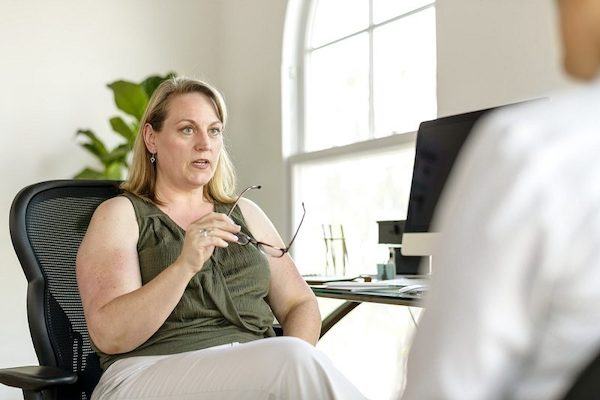 Do You Wonder Why Therapists Take Notes When You Talk To Them?
It's important to understand that there is nothing wrong with asking your therapist about their notes. As a matter of fact, it can be quite healthy. If you are partaking in sessions and genuinely feel curious or uncomfortable as your therapist is taking notes, then asking them about what they're writing can be quite healthy. Not only can it help build patient-therapist rapport, but it can also get rid of the dark cloud which frequently hangs over the idea of therapist notes. Understanding the reasons why your therapist is taking notes can largely improve the quality of your sessions if note-taking is something which makes you curious.
Therapists May Be Within Their Rights Not To Show You Their Notes
This is something which may displease certain patients, but depending on the laws where you live, therapists may be well within their rights not to show you their notes. Depending on the state, they can withhold certain notes. There are many reasons behind these laws, but in a nutshell, they exist to preserve the relationship between the therapist and the patient.
Sometimes, therapist notes contain things which a patient may not like or may not agree with. In certain cases, seeing and reading these notes could upset the patient and cause them to lash out or retreat from therapy that is helping them. This can be tough for many patients to deal with, but sometimes, it's better to not read what your therapist is writing down during sessions. At the end of the day, it's important to remember that your therapist is there to help you. Sometimes, note taking is an understandable, necessary part of the process.
There is a growing body of research pointing to online therapy as a valuable component of a treatment program for mental health issues, in part due to the ability of participants to review notes. In one study, published in the Journal of Mental Health, the benefits of online access to therapy notes for those undergoing treatment were examined. Researchers interviewed patients who'd been given access to session notes online, with 94% reporting that the ability to review them was useful, and 87% reporting that they'd like to continue the practice. The study concludes that access to therapy notes online can increase patient engagement in treatment and improve the relationship between the mental health professional and the participant.
How Online Counseling Can Help You
As discussed above, online platforms can provide you with effective, engaging tools as you work to better your mental health. With BetterHelp, you'll have a record of every message you've sent to your therapist. Also, they'll be able to share notes with you, so that you can remember important ideas that you discussed in sessions. Plus, you can remotely access educational materials that will help you reinforce specific concepts and create a more thorough treatment plan. The professionals at BetterHelp know how to give you the proper guidance on your mental health journey. Read below for counselor reviews from those who have sought help in the past.
Counselor Reviews
"Dr. Burgess is one of the best counselors I have had. He is understanding and supportive while keeping me on track throughout our conversations. Which helps since I tend to ramble at times. I have had many counselors over the years. Dr. Burgess makes me feel heard and validated when I am overcome with self doubt. He takes detailed notes and helps remind me of past sessions so I can maintain my goals over time. He is the reason I have recommended this app to coworkers and friends."
"Dr. Burgess is one of the best counselors I have had. He is understanding and supportive while keeping me on track throughout our conversations. Which helps since I tend to ramble at times. I have had many counselors over the years. Dr. Burgess makes me feel heard and validated when I am overcome with self doubt. He takes detailed notes and helps remind me of past sessions so I can maintain my goals over time. He is the reason I have recommended this app to coworkers and friends."

"My experience with BetterHelp, and most specifically, Dr. Dilsworth has been outstanding. I have been seeing her on a weekly basis for about 6 months. It was important to me to find someone who shared some of my holistic, preventative, and spiritual beliefs as well as someone who has a scientific background that can guide me and give me tools to use in everyday life. She is compassionate but direct in her approach which I am incredibly grateful for. She sends me recaps after each session so I don't have to worry about taking notes and always gives me something to focus on or a bit of "homework" each week that pushes me outside my comfort zone and gives me space for growth."

In Closing
The process of therapy is designed to serve as a guide to patients and help improve the quality of their lives. However, therapy can also be a trying process. As previously stated, there are situations in which uncomfortable topics are brought up during therapy, and that's OK. In many cases, that's to be expected, especially for patients who are dealing with serious, deep-seated problems. Taking the first step and trusting that your therapist has your best interest at heart will always prove to be beneficial, both in the short and long term. Regardless of who you are or where you come from, therapy and guidance will always be available for those who are open to it.
Below are some commonly asked questions on this topic:
What Are Therapynotes Called?
TherapyNotes is a practice management service that behavioral health providers can use in their practices. Therapy Notes helps practitioners track appointments, organize documentation and records, control billing, and take care of other practice management needs. Providers can customize a client portal for scheduling and accessingelectronic health records. TherapyNotes also has integrated telehealth services, so that patient encounters don't have to be in person.
If a practice has multiple locations, those can be added through the software interface so that clients can schedule appointments there as well. Billing is also made easier with the assisted ERA payment posting feature, which allows clients to view their electronic claims and see how much money needs to be paid through their insurance.
Providers can try TherapyNotesand its software for free for one month to see how its services work for their private practices. They can also schedule a demo to see firsthand how the TherapyNotes system and software work. The demo explores the billing process and the software workflow.
What Is A Therapy Note?
You may have seen therapists in TV shows, movies, or ads who are talking to a client while holding a notepad and jotting things down. What they're jotting down are therapy notes. Therapy notes are useful tools when completing psychological evaluations, tracking treatment plans, documenting sessions, and generally keeping tabs on business and practice management needs.Used by behavioral health providers, social workers, physicians, and other types of mental health professionals, they can serve as informal records of an appointment and notes that providers can refer back to when necessary. While most providers use a physical notepad for notes, some utilize software through a tablet or other mobile device to make organization easier.
How Do You Use TherapyNotes?
TherapyNotes is user friendly, and itssoftware has a variety of system features that facilitate billing and practice management for counselors, physicians, psychologists, social workers, and other behavioral health professionals. Patient care is made simpler with a variety of note templates, including one for progress notes, that help you organize records so that you don't have to spend time flipping through pages of forms to find relevant information. The progress notes template allows you to see prior assessments and create a SOAP-style documentation system of the support you're providing as a behavioral health professional.
TherapyNotessoftware makes many aspects of the process of running practices easier. Scheduling, billing, keeping track of documentation and data, and providing the patient access to their records and insurance information can all be done with TherapyNotes. You can also easily import data from another practice management software system.
If you need help using TherapyNotes, you can contact their phone support at 215-658-4550. Wondering how much money you're going to spend for TherapyNotes? TherapyNotes pricing starts at $49 per month for solo practitioners. For a group, the cost is $59 for the first clinician (paid monthly) and $30 per month for each additional clinician ($20 for interns). There is also non-profit pricing, the cost of which is $25 per month for the first clinician and $25 for each additional clinician ($20 for interns). You can receive a free trial for 30 days so that you're able to familiarize yourself with different aspects of the service and the TherapyNotes software. After that, billing will begin according to the plan you've chosen.
If you want help using any features of TherapyNotes, you can search through the Knowledge Base in the Help Center. The Knowledge Base provides support and information regarding a variety of aspects of the service, including billing, appointment scheduling, software issues, patient records, insurance, data security, and practice information.
What Is A SOAP Note In Therapy?
Therapy notes can come in many forms. Some behavioral health professionals fill them out using the SOAP system. The SOAP (Subjective, Objective, AssesmentAnd Plan) system is a way of organizing and standardizing records of a client's treatment. SOAP notes allow healthcare workers to communicate among themselves and can be an essential part of a therapist's practice. One way of creating SOAP notes is through TherapyNotes. TherapyNotes software makes it easy to organize notes and perform a number of other practice management functions.