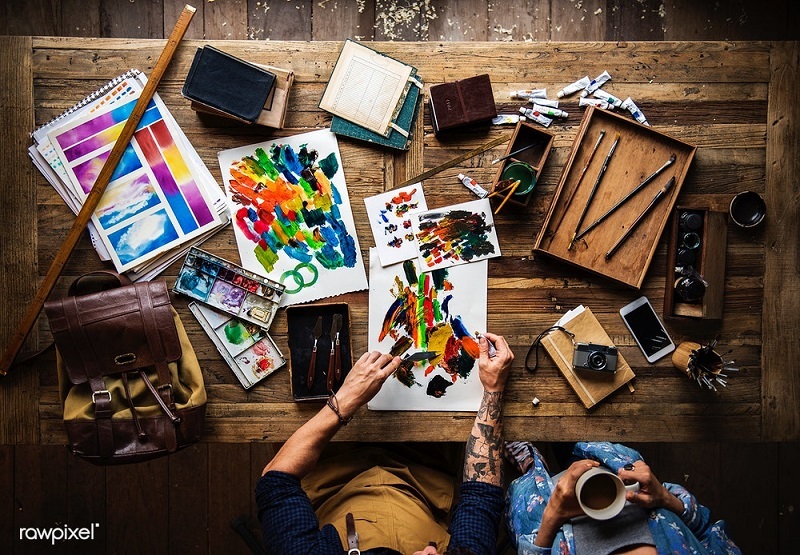 Source: rawpixel.com
When we think of art therapy, many of us refer back to images of young children in a room with a counselor drawing their feelings. But, in reality, the benefits of art therapy doesn't stop at age 10, 12, or 16. Art therapy is an effective tool used alone or in conjunction with other treatment for a variety of challenges, including anxiety.
Most artists may say that part of the reason they create is that it gives them an emotional outlet. While almost all of us create in some way as children, many of us cease to do so as we grow older. But, in reality, art is an incredibly useful tool for self-expression, especially when talk therapy is difficult.
What Is Art Therapy?
According to Art therapist, Jess Kimmel, MSAT, LLPC, art therapy "is a modality of mental health treatment that relies on metaphor and introspection." Therapists usually mix art therapy and more traditional methods through the course of treatment to provide their clients with optimal opportunities for self-expression.
Anxiety Art Therapy
Generalized Anxiety Disorder (GAD) is characterized by "persistent and excessive worry about a number of different things," according to the Anxiety and Depression Association of America (ADAA). People living with GAD find their worry incredibly hard to control, so much so that their everyday lives become very challenging. It can make the simplest of tasks difficult.
Anxiety Art therapy is one way for people living with GAD to express the intensity of this worry when words are not enough. Using a different sense of the body to express nuanced emotion helps the message come through in a clearer way.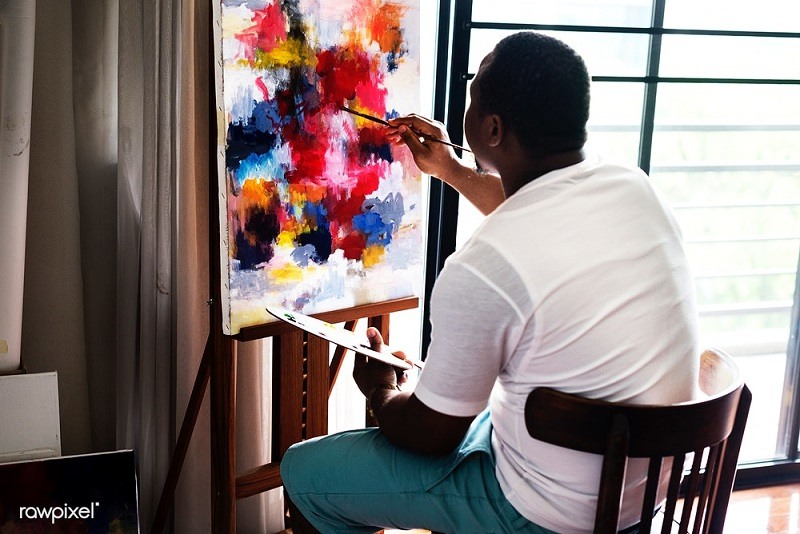 Source: rawpixel.com
Anxiety art therapy is not about the technical component of making art. No skill is required. All that is required by the client is that they create. Feelings naturally fall onto the art through no direct intention.
Benefits
Anxiety art therapy has long been a popular tool used in conjunction with more traditional therapy methods because of its many benefits. It serves as an alternate mode of communication, it centers thoughts, breaks the cycle of rumination, gives dialogue direction, eases nervous clients, and provides an overall soothing, calming effect. The evidence of this latter point can easily be seen in the increasing number of adult coloring books that have been popping up in stores throughout the country.
Supplements/Complements Verbal Expression
Some people suffering from anxiety and depression are also very introverted. Introverts may feel less comfortable opening up, especially if they are still in the early stages of forming a relationship with a particular therapist. Anxiety art therapy is one way clients can express how they are feeling at a given moment easily without having to struggle to articulate them in words.
Another obstacle facing talk therapy is the reproduction of the catalyst behind anxiety related symptoms like panic attacks. Because the exact cause of the panic attack may be hard to pinpoint or verbalize, anxiety art therapy helps to "cognitively restructure" the attack without the need to articulate it verbally.
Improves Physical Health
A study published in the Journal of Korean Medical Science examined the effects of mindfulness-based art therapy conducted with patients suffering from both Coronary Artery Disease (CAD) and anxiety and depression.
Researchers found that a significant number of patients participating in the study reported reduced feelings of depression and anxiety as a result of the therapy in addition to reduced body mass index and significantly reduced blood pressure.
From this examination, researchers found that this type of therapy "induces changes in essential physiological factors that are easily affected by emotions, such as breathing synchrony and heart rate, and also boosts satisfaction among patients through physical integration."
Interrupts The Cycle Of Rumination
Ruminating on past events or sources of worry can be one of the major contributing factors to Generalized Anxiety Disorder. Rumination can be thought of a repeated cycle of thinking about a single instance or memory. The cycle is hard to break, and if it is broken, it can be returned to easily.
Anxiety art therapy engages other senses that require the mind to turn its attention away from the cycle of rumination and towards the present. By engaging the mind to visualize and create something with the hands, it has less ability to devote as much power to the thought or memory on which the mind is ruminating.
Provides A Dialogue Direction
Sometimes talk therapy alone can be difficult between client and patient if the client is having a hard time determining exactly what he/she is feeling. Clients may feel uncomfortable opening up completely in a verbal way. Or they may want to verbalize how they're feeling but have a hard time doing so.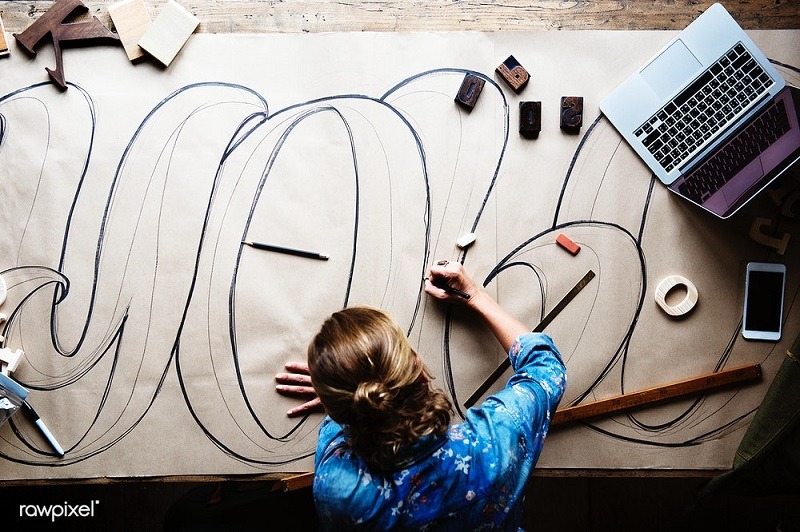 Source: rawpixel.com
By engaging in anxiety art therapy, a client can express themselves using a different means of communication. Through their art, a therapist can find launching points to explore more deeply that they may not have been able to identify with a more traditional form of therapy.
Eases Nervous Clients
Someone dealing with anxiety may already feel very apprehensive about talking to a therapist in the first place. Getting them to walk through the door or even make eye contact can be incredibly tough for some people who are particularly anxious. Sessions may pass before a client begins to feel even remotely comfortable opening up about their feelings.
Anxiety Art therapy is one way to make a tough situation a little more tolerable. It creates an opportunity for a client to focus their attention on the task at hand and less on the uncomfortable position they find themselves in.
At the same time, therapists can use anxiety art therapy to help initiate the conversation with a client that may have otherwise taken much longer to begin thereby giving them a jumpstart on the road to progress, and giving the client access to some help more quickly.
Centers The Mind And Focuses Thoughts
According to the American Public Health Association, "There is evidence that engagement with artistic activities, either as an observer of the creative efforts of others or as an initiator of one's creative efforts, can enhance one's moods, emotions, and other psychological states as well as have a salient impact on important physiological parameters."
People dealing with anxiety may also be struggling with a restless mind, which can leave one feeling off balance and uneasy. Engagement in anxiety art therapy, no matter if it's through a simple drawing, or creating something a little more complex, can help reduce these negative feelings and introduce relative calm during a therapeutic session.
Can Be Integrated With Other Therapies
Anxiety art therapy can easily be integrated with other therapeutic approaches such as cognitive-behavioral therapy, exposure therapy, acceptance and commitment therapy, and interpersonal therapy.
When used in conjunction with other modes of therapy, both therapy types can complement each other and serve as a propellent forward when a tough crossroads is encountered.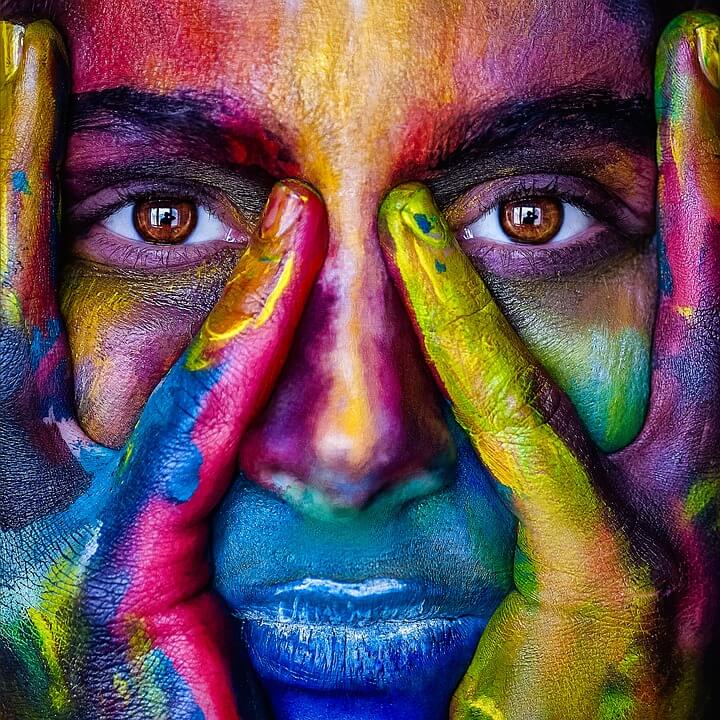 Source: pixabay.com
Luckily, given the technological capabilities we enjoy, therapy options have opened up widely. For those of us dealing with Generalized Anxiety Disorder, we can seek help in myriad ways to include face to face counseling, in-person group counseling, mobile apps, texting services, or telemental health services.
The Importance Of Anxiety Art Therapy
Whether used alone or in conjunction with another form, anxiety art therapy can be very helpful to someone who is living with anxiety. Feeling anxious on a near constant basis that's above normal expectations can be incredibly disruptive to anyone trying to feel normal. Dealing with anxiety by yourself can make matters feel even worse.
Seeking help from others, especially those who are trained and experienced in listening, understanding, and helping can go a long way in helping you feel like you're on the road to a more normal, better sense of self.
Anxiety art therapy is just one of the many ways licensed professionals can help someone who is struggling with their anxiety.
It's a way to express your feelings without having to articulate them solely with words.
The process of creating art has direct physiological effects that counteract the detrimental physical consequences anxiety brings about.
It is one tool that you can use to interrupt a nagging and destructive cycle of rumination on past events or negative thoughts.
Anxiety art therapy helps you show your therapist your feelings without talking about them, thereby giving him/her a direction in which to take further assistance.
It centers and focuses your mind on the present, giving you relief from anxious thoughts and feelings
It's easily integrated into other therapies so that you and your therapist can come up with a custom-made plan
Anxiety art therapy can help you feel comfortable in what can be at first a very uncomfortable situation.
If you're struggling with anxiety, don't hesitate to speak to a professional to find some relief. Therapy can come in a variety of ways and means, whether it be in person, over the internet, or on the phone.
Frequently Asked Questions (FAQs)
Does drawing help anxiety?
Yes, drawing does help ease anxiety symptoms. As stated in the article, drawing brings you into the present and uses other senses for creative expression. Art making can have a physiological effect on your body, which, in turn, can relieve stress. Anxiety that stems from PTSD symptoms, eating disorders, panic disorders, bipolar disorders or other mental disorders can be managed when combined with other treatment through the creative process of art making.
A board-certified art therapist can guide you through the creative process, so you will be able to focus on the art making at hand and give better expression to how you're feeling. An art therapist might even lead group therapy where people who have anxiety or other mental health disorders use art to verbalize their thoughts and emotions. Individual or group art therapy can be part of a treatment plan for addressing anxiety symptoms.
The American Art Therapy Association recognizes the importance and impact that art has on the health and wellness of people experiencing a range of mental and physical health conditions.

How long does it take for therapy to work for anxiety?
Therapy for anxiety that includes cognitive behavioral therapy can take up to 3 to 4 months, according to the Anxiety and Depression Association of America. Treatment plans will vary from individual to individual and so will the length of the plan. The best approach to deal with anxiety is to have a comprehensive treatment plan. For some people, this might include, in addition to individual therapy, the extra support found in group therapy or art as creative expression.
The individual in therapy must also be committed to the therapy process and be open to different treatment options. If a treatment option doesn't feel right or the therapy process isn't going as well as you expected, talk to your therapist. The two of you should be working together to find out what's the best route to take to manage your anxiety.

What benefits can I get with anxiety?
One might think that having anxiety carries no benefits whatsoever – only stress and excessive worry. However, anxiety can have some advantages. You might have a friend who seems so carefree with not a worry in the world. But you also might notice that your friend doesn't consider all possible outcomes to a situation and rushes in – consequences be damned. Then, there's you with anxiety. Your advantage here is that you use your critical thinking skills to consider the consequences of a situation and then carefully make a decision based on what you've learned. You might just have avoided some serious consequences because your anxiety led you to think cautiously and critically.
By being aware of your surroundings, you can make split-second decisions when it comes to navigating traffic, biking on nature trails, or even whether to make that 3-point jump shot or pass the ball to another player closer to the basket.
One important benefit is that anxiety, especially if it's piqued, can be used as an indicator that something's wrong or a little off. By having a keen awareness of yourself, your body (if not your mind) will tell you when to take a step back. Maybe your job doesn't feel like the right fit for you or your friend is going through a divorce, so you feel anxious about your relationship. Whatever it is, anxiety can help you take a deeper look into what's going on. From there, you can make decisions and take action to steer your ship (life) back on course.
There are other benefits to having anxiety, but the important thing to remember is that if your anxiety prevents you from going after what you want or interferes with your day-to-day life, it might be time to speak with a therapist.

Should I go to therapy for anxiety?
As mentioned in the answer to the previous question, if your anxiety keeps you from doing what you need or want to do (ex. work, go outside, or attend social functions), then consider seeing a therapist. A therapist will work with you to come up with a treatment plan to address your symptoms of anxiety.
You will learn techniques to manage your anxiety disorder or panic disorder, such as unlearning certain behaviors. With behavioral therapy, you might learn to take slow, deep breaths from your diaphragm in response to an event that triggers anxiety or panic rather than breathing shallowly from your chest.
Addressing anxiety with the guidance of a therapist can lessen the effects it has on your life and relationships.

What helps severe anxiety?
Seeking professional help will help with severe anxiety. Although you can try to work through severe anxiety on your own or with the help of others who aren't mental health professionals, this might leave you overwhelmed with where to begin or you might be given some well-intentioned but not-so-good advice.
A therapist can integrate different therapies into your treatment plan to help you overcome or minimize anxiety. Aversion therapy and cognitive-behavioral therapy are some of these therapies. A therapist can also support you as you explore underlying reasons for your anxiety. A therapist won't judge or shame you, which you might get from family or friends who are trying help you.
Steps you can take on your own in conjunction with your therapy are exercising, eating healthfully, avoiding caffeine, and practicing kindness toward yourself and others.

Does CBD help anxiety?
Cannabidiol (CBD) might help to alleviate anxiety, but more studies are needed to fully substantiate this claim. Of the studies that have been conducted in the last few years, CBD at lower doses has shown that it can reduce the symptoms of anxiety. Conversely, higher can increase anxiety. CBD works by indirectly affecting specific receptors found in the two parts of the nervous system, the central and the peripheral. CB1 receptors are in the central nervous system, while CB2 receptors are in the peripheral.
Dosage and how CBD is taken should be considered. Dosage can be dependent on how CBD is taken and the purity of CBD. Some ways to use CBD are to take orally as a supplement, rub on the skin as an oil, inhale via smoking, and eat as an edible.
CBD will not cause you to get high. The chemical tetrahydrocannabinol (THC) causes this effect. CBD might have trace amounts of THC.

Does CBD Oil calm you down?
CBD oil might calm you down. As discussed previously, more research needs to be conducted but the research so far looks promising. If anything, CBD oil might have a psychological effect on your anxiety. If you believe it will calm you down, then you might experience a calming effect.

Can CBD Oil cause panic attacks?
The use of too much CBD oil or if the oil has more THC than it should, you might experience anxiety or even a panic attack. When starting with CBD oil, use a smaller amount than recommended to see how you feel. If you feel okay after a week, you can work little by little up to that recommended dosage. If you feel uneasy in any way, you can discontinue. There are plenty of other options to help with panic attacks, such as breathing exercises and cognitive-behavioral therapy.

Are there any bad side effects of CBD?
Using CBD will not lead to addiction or dependence but can cause mood changes, namely irritability. CBD can also cause lethargy, diarrhea and nausea. If you're taking medication, talk to your doctor first before using CBD because it might interfere with your medication. Also important to note is that CBD is not regulated by the FDA. Therefore, it's difficult to tell if CBD is of high quality. One must consider the purity of CBD and if other ingredients are also used but not listed in CBD supplements, topicals and other forms of CBD products.