What Is Group Therapy And How Effective Is It?
By Nadia Khan
Updated June 04, 2020
Reviewer Lauren Guilbeault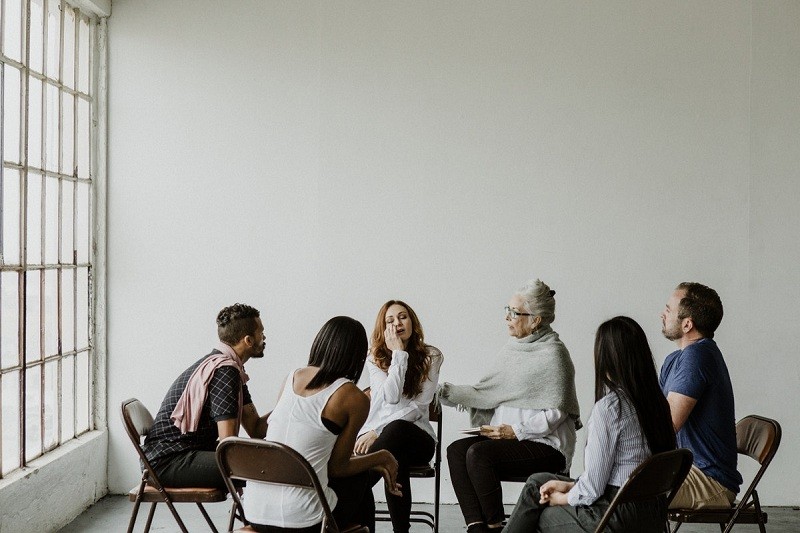 Source: rawpixel.com
Incorporating Group Therapy into your Treatment: Methods and Benefits
There are many different types of psychotherapy, and one of the more broad forms of therapy is group therapy. There are many different types of group therapy, and there are also many different ways to incorporate group therapy into your treatment plan, or utilize it as a standalone treatment. The benefits of group therapy have shown to restore normalcy to people who suffer from many different disorders and diseases, and the different stages of group therapy enable visitors to benefit from a supportive and positive environment.
What is group therapy? By definition, group therapy utilizes one or more therapists working with a group of individuals at the same time. This specific type of therapy is offered at many different medical institutions, including private practices, hospitals, mental health facilities and clinics and community centers. Visitors can join group therapy sessions with others that are at different stages of group therapy, allowing people to share experiences and positivity at different points in their treatment.
What Group Therapy Proposes
In Irvine D. Yalom's The Theory and Practice of Group Psychotherapy a distinct set of guidelines, or principles, are outlined describing said principles drawn from individual reports by those who have been through different types of group therapy. The group therapy process consists of the following:
Persistence of Hope: Since sessions contain individuals at different stages of group therapy, seeing the success of others during the group therapy process can instill a sense of hope in others that are perhaps just starting group therapy activities.
Being One: Allowing you to heal and move past traumatic experiences with others that are similarly moving past their own demons can allow a sense of oneness and comradery unattainable with one-on-one therapy. This bond is one of the benefits of group therapy that can be greatly effective when combating symptoms.
Imparting Information: By sharing information and working as a group members can share information that can be vital for another individual's treatment and healing. This sharing of experience is a group therapy topic that can only add to the success of group therapy.
Altruism: Sharing strengths with other members of group therapy can boost moral, self-esteem and confidence of those that are new or just beginning group therapy activities
Corrective Behavioral Commentary: The group therapy group begins to take form as a family to many group members. During group therapy sessions members can explore past childhood experiences they believe shaped to their personality and behavior to the group. By sharing these experiences and behaviors members can learn new reactionary habits from others that are more effective, positive and empowering.
Remaining Social while Healing: The social aspect to group therapy is hugely beneficial. Most people tend to withdraw when recovering or attempting to recover from a traumatic experience. Being around others allows you to heal without withdrawing, and in turn allows you to practice new behaviors.
Imitation: Group members can imitate others' responses and actions to scenarios that are beneficial and positive. Group therapy ideas can translate helpful everyday social techniques that others can use in their daily lives.
Interpersonal Learning: Interacting with others and receiving feedback in real time is a successful type of group therapy. By getting feedback from other group members and the group therapist, new perspectives and techniques can be developed in a safe and welcoming environment.
Catharsis: Allowing yourself to share your feelings and traumatic experiences with a group of people going through similar experiences can allow you and others to let go of guilt, pain or stress.
Existential Factors: While working through traumatic issues in a group therapy setting, a sense of responsibility is also absorbed through the guidance and support of group members. Through this process individuals become aware that they themselves are responsible for their actions and choices.
What Group Therapy Treats
Group therapy is a form of psychotherapy that can treat a wide array of different disorders and diseases. These include:
Low self-esteem/confidence
Depression
Anxiety
Greif/loss
Emotional/Physical Trauma
Social anxiety/communication issues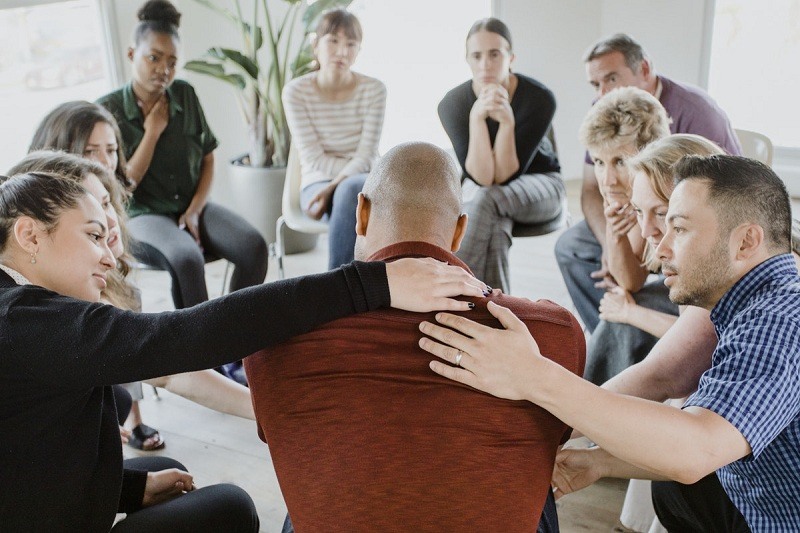 Source: rawpixel.com
Group therapy topics can range from your own personal experience or the trauma of another group member. There are no rules of group therapy that should be used to gain a specific outcome; group therapy is a process that must involve a therapist and others. Group therapy activities for adults include:
Educational, cultural or social outings or activities
Expressive group therapies like art, writing, acting and dance
Integrative group therapies like yoga, Pilates or acupuncture
Support groups or skill training groups
Educational lectures of workshops
Generally group therapy sessions can last anywhere from one hour to three hours. Group therapy sessions can hold up to twelve individuals with one therapist present. The flexibility of weekly sessions is up to your group therapy therapist and your doctor, depending on if you are incorporating group therapy into your treatment plan or are attending group therapy sessions on their own.
Benefits of Group Therapy
There are many different benefits of group therapy. Group therapy topics can range in a manner that allows multiple different people suffering from multiple different disorders an opportunity to connect with others that might not be going through the exact same grief, but at the very least understand your feelings.
Additionally research of group therapy topics and group therapy ideas distinctly show the effectiveness of group therapy when it comes to treating destructive symptoms. Benefits of group therapy sessions at all different stages of group therapy include:
Improvement in self-awareness, self-responsibility and instill a motivation to change
Ability to practice and learn new, positive skills and behaviors
Feedback from peers
The ability to build confidence and self-esteem
Improves communication skills both external and interpersonal
Ensures that isolation and withdrawing do not happen
Ability to discuss personal issues directly allows them to come to the surface easier and the solving of personal issues is achieved easier under the guidance of a therapist and others
Group therapy topics can range depending on who is sharing their trauma. With this sense of oneness persisting in sessions, the group inadvertently provides support to all those that share or allow themselves to be vulnerable. A sense of objectiveness is also achieved during group therapy sessions. Since others in the group aren't personally involved with you or those you are social with, they have the opportunity to add opinions and ideas to help you work through situations. Essentially they are able to see things you can't, or might be too biased to see.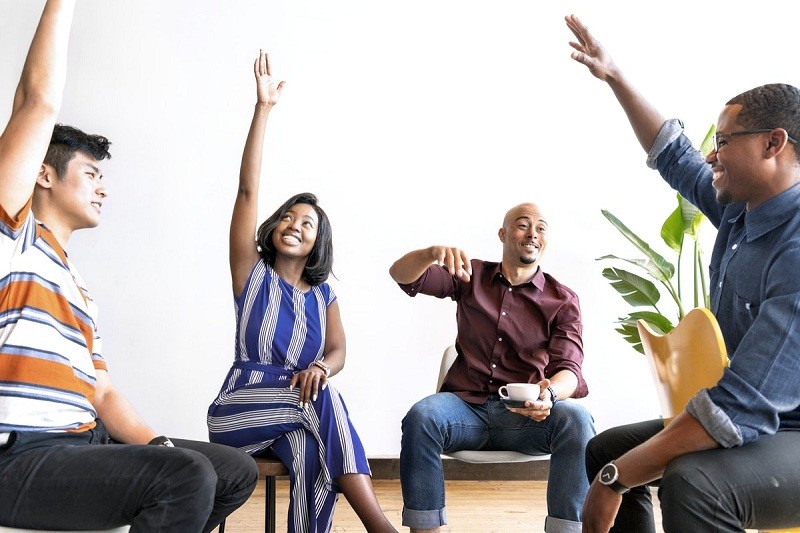 Source: rawpixel.com
Group therapy topics can also lead to the inspiration of others. Learning about the success of other group members in their treatment can give you hope that through hard work you can overcome your symptoms or your trauma. Group therapy activities also strengthen your social skills. Even when isolating feels like the best move, it can be the worst. Group therapy sessions can allow you to heal while being social.
Getting the Most from Group Therapy
The most effective way to benefit from group therapy is to take it seriously and work hard. Your recovery is dependent upon how seriously you take it, and the effectiveness of group therapy proves that through hard work, treatment can lead to recovery. By taking the experiences of others you are learning new behaviors, releasing the guilt and anguish you feel and inspiring others to follow the same path towards success you yourself are taking.
When starting group therapy these three steps should be followed to ensure you have accountability and a responsibility to finish treatment:
Pledge: Group therapy should be taken seriously by everyone. Each group should have members sign a contract that communicates what is expected of them for their own treatment and the participation for others.
2. Participate: Even on days when you don't feel like attending group therapy or in moments where you're expected to share but you think about skipping, don't. Participation isn't just integral for your recovery, but for those in your group.
Share: Sharing your trauma with others allows you to remove the burdens of your experience from you while also allowing others to relate to you for their own recovery. By sharing you are healing yourself and healing those in group therapy with you.
How to Succeed in Group Therapy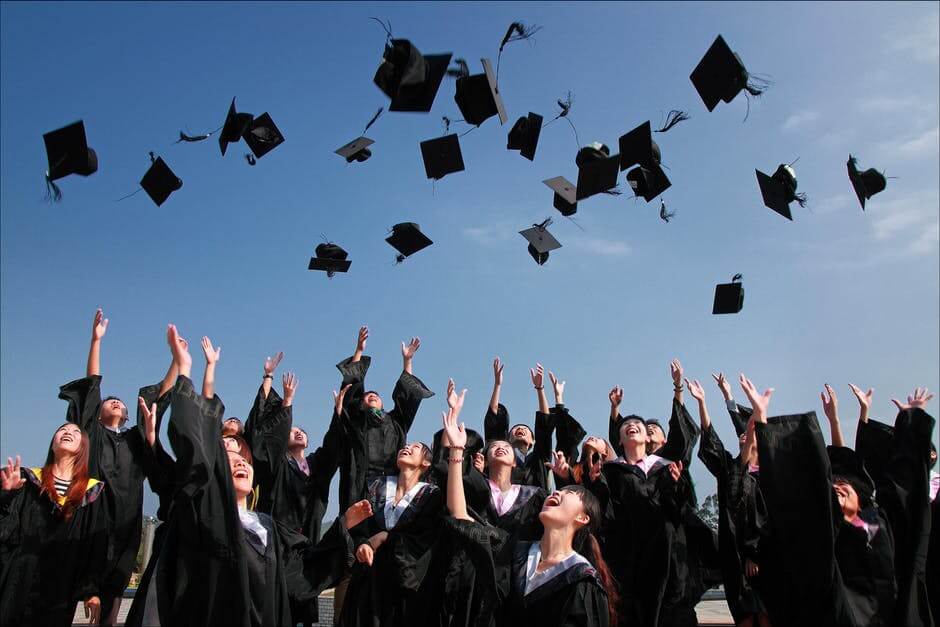 Source: pexels.com
Group therapy isn't just for your healing, but also for the healing of those in therapy with you. Although you are there to address your disorder or your trauma, other group members are looking to you for indirect guidance and advice. By sharing and participating you are finding commonality while suffering and simultaneously helping others in their treatment.
Participation, research and responsibility are extremely important when succeeding in group therapy. Researching where group therapy sessions are offered and what group therapist works for you is also important when starting your path towards group therapy treatment. Using online tools like betterhelp.com to locate professional therapists that lead group therapy activities for adults will start you on a path towards peace and recovery.
---
Previous Article
Talking Therapies: How Talk Therapy Can Help You In Treatment
---
Next Article
What Are The Different Types Of Therapy Available?
---
The information on this page is not intended to be a substitution for diagnosis, treatment, or informed professional advice. You should not take any action or avoid taking any action without consulting with a qualified mental health professional. For more information, please read our
terms of use.