How Career Counseling Helps College Students
By: Sarah Fader
Updated August 28, 2020
Medically Reviewed By: Aaron Horn
College is a wonderful time in many people's lives. It's a time of personal and professional exploration. When you have just graduated high school, you may not know what to expect from taking the leap and going to university. If you're returning to college after entering into the professional working world, it's also exciting. You have a chance to explore what interests you and get the most out of your time at a university or college setting. If you've made the decision to go to college, it's because you're pursuing your dreams. You want to be able to find a career that works for you and that you're passionate about pursuing.
Many college students are determined to achieve academic excellence, and there's a lot of pressure on those who are pursuing an undergraduate degree to meet high levels of academic success. Whether that pressure is on behalf of parents, internalized beliefs, peers, or professors, it can be very challenging for college students to pursue these goals because they feel so much pressure in so many areas of their life. That's why seeing a career counselor can be extremely valuable.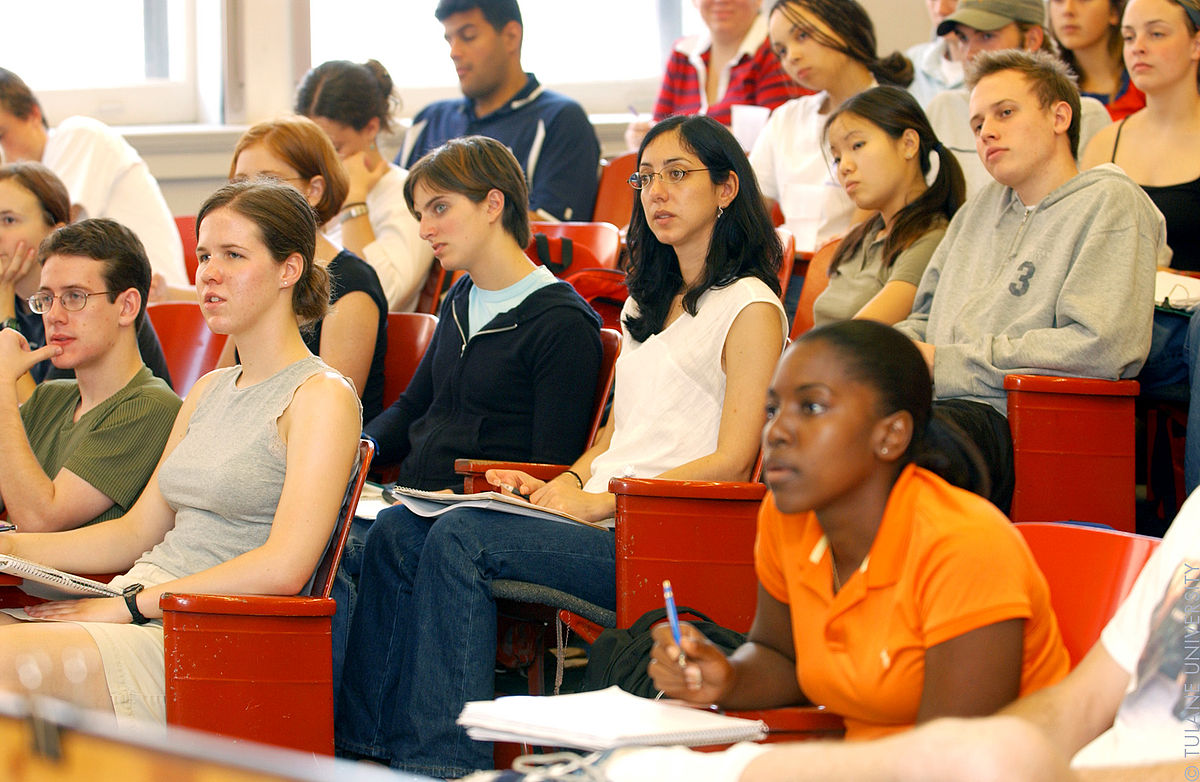 Source: commons.wikimedia.org
What Is Career Counseling?
Career counseling is a form of guidance that assists students by determining their strengths in the workforce. It's there to help people figure out what they want to in terms of work and how to go about that mission. Many career counselors administer skill assessments to determine what a person can do well and show them how to use those attributes to their advantage. A career counselor can help a student find a job or internship based on their skill set, and they can even provide resources such as job fair information or job boards that cater to a student's area of study. It's important to remember that career counseling is only as good as what the client puts into it; if you believe that you'll achieve your goals by going to a career counselor and figuring out what you want to do with your career, you'll be more successful than you would be if you went into it with a closed mind.
Feeling Undecided About Your Career
According to a recent study where 131 undergraduate students were surveyed, only a small percent of students (12%) were undecided in terms of what major they want to pursue in college. However, 56% of the people surveyed were unclear about what they wanted to pursue in terms of their career. These results let us know that while many students have an idea about their interests or maybe even their mission in the world, they have a lot of anxiety surrounding what career path they want to take…or, often, what path they "should" take. It may also be the case that they simply don't know what career path is best for them to pursue regardless of internal or external stressors or pressures.
In either care, a career counselor can help. You may come to the table with some ideas about what you want to do, or you might be struggling with not knowing what you want to do at all. Often, your interests will be a guiding force in addition to your skills as you think about potential career opportunities. Maybe, you love to work with children, or perhaps you're interested in going into something like engineering. These are all good things to bring up with a career counselor! You can collaborate and talk about ideas and concerns for potential career paths.
Assessments
One of the most interesting parts of career counseling is skills assessments. When you take these inventory tests, you will learn so much about yourself. You may be unsure about what your skills are, and that's why assessments are extremely valuable. Getting clarification on what you're good at can only help you succeed. Career counselors know the value of skills assessments, and they understand how to best use them when meeting with college students. It's not a one-size fits all when it comes to assessments. There are many things that come into play when it comes to evaluating the skills of various college students. There are many different assessments that a career counselor can give you to help you determine what kind of career is best for you.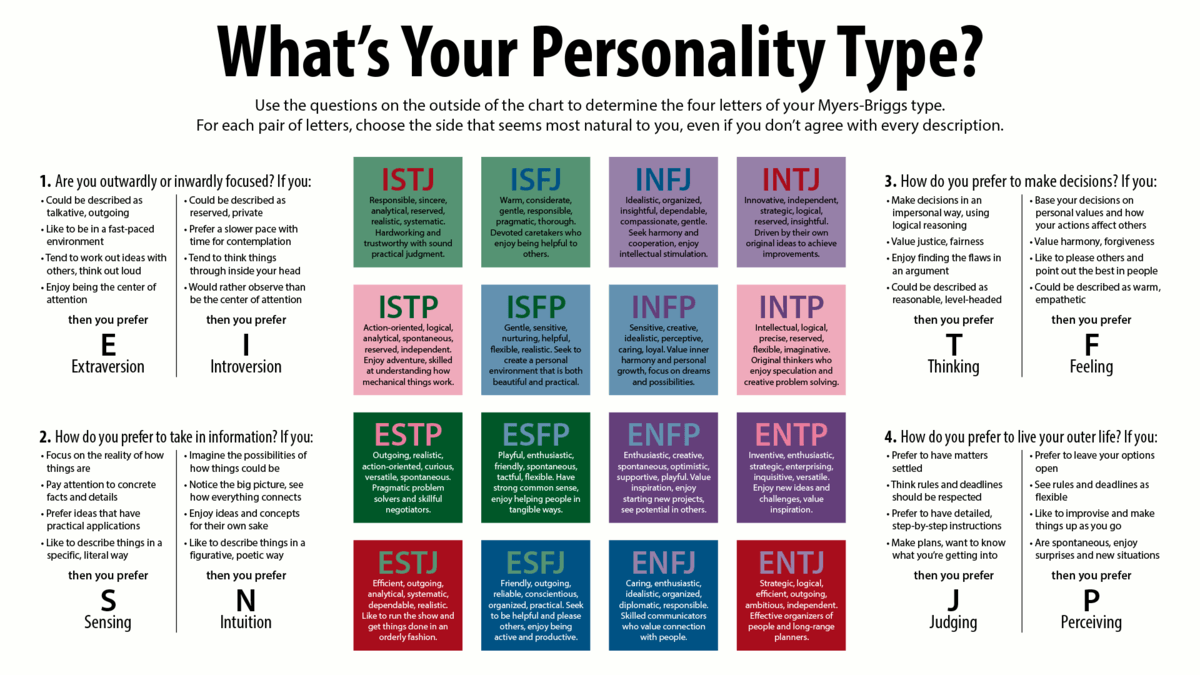 Source: commons.wikimedia.org
One of the most common assessments is the Meyer Briggs Type Indicator (MBTI). It'll tell somebody what their strengths and weaknesses are. The first thing that the MBTI will tell you is if you're an introvert or extrovert. This is great because it may help you think about what kind of environment you'd like to work in. The second component of the Meyer Briggs will determine whether you're a logical thinker or a "feeler," and knowing this can help you determine what kind of career you'll want to go into, whether it's a more logical or thinking-related career or a more "feeling" one. Another common assessment is the FOCUS 2 test. Career counselors are trained to interpret and explain the results of these tests and assessments. With the information that these assessments provide, the career counselor and student will have additional tools to explore what careers might be a good fit for a particular individual.
Anxiety and Career Counseling
It's natural to feel anxious about starting career counseling. You may be afraid of it because it's uncharted territory. If you're a young college student, you may not have thought about your future jobs. It's also possible that you've never worked before in a full-time capacity. These are understandable anxieties to have when pursuing career counseling. Understand that career counselors are well-versed at helping students like you achieve their goals. You don't have to do this alone, and there are ways to get to the job of your choice with the guidance of a great career counselor. You may not know what questions to ask your counselor when you first meet with them. That's okay too, and we can go over that next.
Questions to Ask a Career Counselor
To get the most out of your appointments with a career counselor, you may find it helpful to go in with a list of questions that you have for them. It could be that you want to do this but don't know what to ask to get the most out of a session. Here are some good questions to ask a career counselor:
How should I go about a job search in my specific field?
What resources are available to me?
Can you please look over my resume?
How do I write a cover letter?
Will you look over my social media and tell me how it'd come off to a potential employer? (They might look over your LinkedIn account, etc.)
I know a lot of jobs require experience; how do I show that I can do it if I don't have any experience? Where do I start?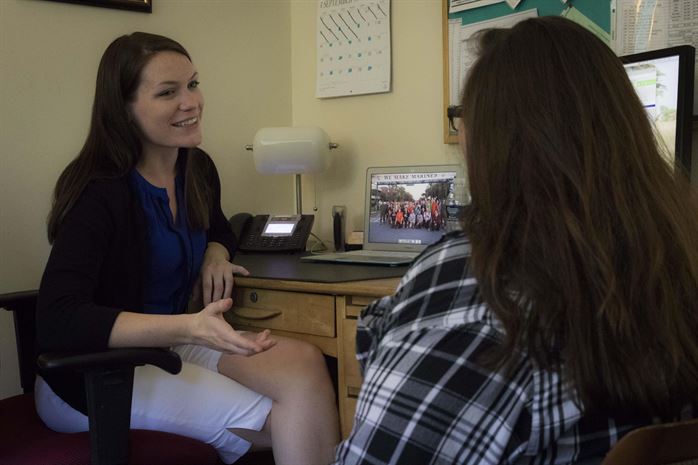 Source: mcrc.marines.mil
Career Centers
A career center is the hub for where you'll find career counselors on a college or university campus. The career center is generally centrally located and will often have its own website with information including profiles of each on-campus career counselor and their phone numbers. You can make an appointment to meet with a career counselor to talk about what you're passionate about pursuing, about the different career options that you're thinking of, or really, any other career-related concerns. A career counselor may want to meet with you multiple times because, for example, if you take an assessment with them, they'll need the time to interpret and explain the results.
Follow-up appointments are extremely important because then, a career counselor will be able to help you grow and strengthen the ideas that you have about your career path. They'll also help you uncover new strengths or work through challenges along the way, and you'll be able to build a plan with your counselor so that you'll feel confident about what you want to do after graduation.
Job Search
Once you've figured out what kind of career you'd like to pursue, a career counselor can help with resume building and job searching. Most companies will require that you have a resume and cover letter to apply for jobs online or in your local area. A career counselor is skilled at helping you create a resume that will be compelling to employers, and they can also help you craft a cover letter that indicates your skill set and appropriate strengths for the job. They might even be able to give you tips for job interviews or help you prepare for an interview that you're nervous about. Remember that in the career center, there are many resources that you can tap into. Don't be afraid to ask the career counselor if you don't know what direction you should go in, whether that relates to a simple job search or your overall career.
Online Counseling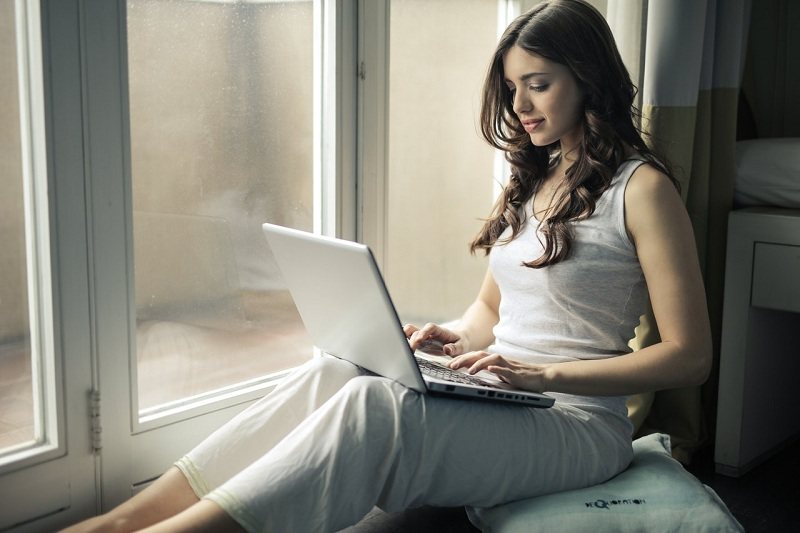 Source: pexels.com
Online counseling is an excellent place to talk to a professional therapist about your stressors as a student. Whether you're in a university setting or you're graduating from school, online counseling is a great resource for anyone who is struggling with mental health, education, or overall life issues. It could be that you speak to an online counselor about a mental health struggle such as anxiety or depression, or it could be that you speak to them about your family life or your potential career. It could be that there's a career that you'd like to go into, but you're concerned about how it could affect your mental or physical health and need to talk it out. Perhaps, you want to be a therapist yourself one day, and you're wondering if that's a good fit for you. The counselors at BetterHelp are here to help you with whatever you need to discover about yourself. Don't be afraid to speak to a mental health professional who can help guide you toward your ideal life and goals.
---
Previous Article
How Do You Know If You Need A Career Shift? Is Your Job Impacting Your Mental Health?
---
Next Article
Hands-On Careers For Sensitive People - Being An Empath In The Working World
---
The information on this page is not intended to be a substitution for diagnosis, treatment, or informed professional advice. You should not take any action or avoid taking any action without consulting with a qualified mental health professional. For more information, please read our
terms of use.