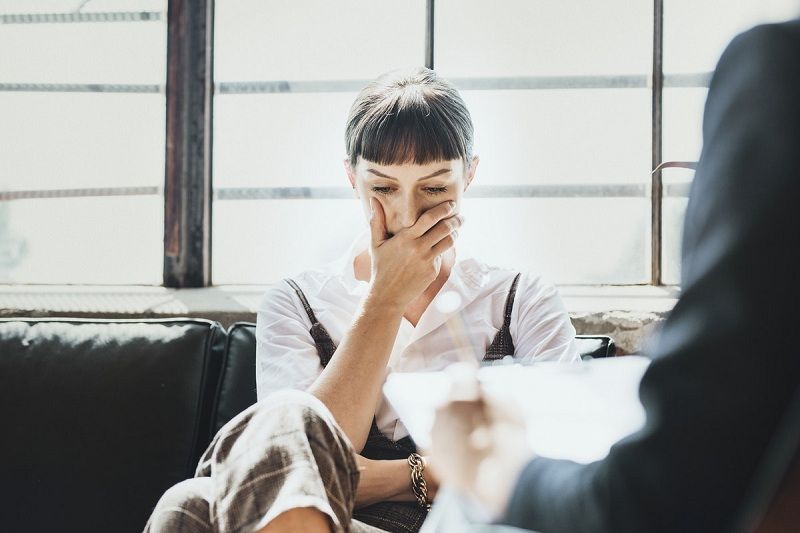 Getting Lost In The Haze Of Your Past?
When you think of the word "therapy," what do you imagine? For many of us, the word immediately conjures images of sitting in an office and poring over memories and concerns with a therapist, who might nod along and periodically interject. Others may think about speech therapy, physical therapy or occupational therapy services, which are also forms of therapy but aren't related to mental health. Focus therapy, also called Solution-Focused Brief Therapy (SFBT), is a type of psychotherapy that focuses more on the present and future needs, rather than delving deeply into the past and evaluating the many different facets that might precede or lead to issues and concerns frequently talked about in therapy settings.
What To Expect In Focus-Based Therapy
Focus therapy is based on the individual's own bodily sense of what is right for them. These sessions are centered around exploring the problem and the "felt sense" so you can discover the right solution for yourself.
Because it's more focused on your thoughts and feelings than about what's happened previously in your life, your family dynamics, or your experiences as a child, Focus Therapy can often help you feel more involved in the therapeutic process. After all, you'll be able to make decisions about what you're currently doing right and what you could improve during any given appointment. It will also give you a sense of control and the tools you may be seeking to make more decisions about how to change your current way of thinking and way of acting, resulting in more positivity and greater success in your endeavors.
When you step into a focus therapy session, you can expect to be asked why you are there, and what it is that you hope to tackle during your session. This particular type of therapy is usually designed to be spread out over a short period of time—typically 5-8 sessions. This short burst of therapy is part of the reason for a focus on solutions: other therapists who practice psychoanalysis or other forms of behavioral talk therapy have the time to go into far more of your background, personal history, and long-term concerns, while 5-8 sessions allow you to focus more on what is currently going on in your life, and how your thought patterns and processes might be impacting your current experiences.
Respectful Treatment
This type of therapy is uniquely centered on treating the individual's current situation and possible solutions with dignity and respect. Rather than assuming the therapist is more interested in the past of the person who is receiving the therapy, focused therapy relies on a therapist who honors the individual's overall bodily sense of what is happening, what the implications of it are, and what solution will work for them. People utilizing this type of therapy may feel more empowered and centered during the short duration of therapy for this reason, whether they elect to continue therapy after their sessions with an SFBT practitioner have concluded or not.
How often have you listened to someone tell you what to do and thought 'they don't know anything about me' or 'they don't know what they're talking about?' With this type of therapy, you don't have to worry about that because your therapist is actually there more as a sounding board to let you talk and explain what's going on in your life and how it's impacting you. Rather than giving you advice they simply acknowledge what you have to say and let you create the solutions that are going to work best for you.
The Therapist's Goal Is to Understand
How often have you been in therapy or just talking to a friend and felt as if they were listening only with the intention of correcting you or telling you how to act and who to be? This is where therapy can be useful: therapists are trained to listen and respond appropriately, and address concerns from their patients with consideration and respect. Talk therapy can feel less solution-based than some people are hoping for, which may make SFBT an ideal option for someone who is looking for guidance with specific, current concerns rather than ongoing concerns that may be best addressed by taking a deep dive into personal history, family of origin dynamics, and traumas.
In focus-oriented therapy, the counselor's primary goal is to hear and understand you. As they practice the intention to understand, you also learn how to work towards your own inner understanding. You'll actually be able to listen to yourself as well and to understand what it is that's most important to you. You'll also be able to work out just what it is that you want most in your life and just what you need in order to be successful in addressing the concerns you bring to your therapist. The short format of this type of therapy aids in its hyper focus on solutions.
Learning to Be Fully Engaged with Your Experience
When your life is busy, whether with work, children, family life, and physical or medical problems, your days can seem to fly by. You might not be fully aware of what is happening or how you feel about it. If your life seems boring, you may ignore the details because they seem too mundane. In focus therapy, you learn to live each moment as it happens and consider it on a deeper level during the moment and after the fact. When you recognize the significance of the situation you are in, you can be a better judge of what the best solution is for you.
SFBT is a tool in learning how to take advantage of this process, because it offers practical and readily implementable steps to address any concerns you might bring to the table. Using the techniques you develop, you may find yourself better equipped to address concerns or issues you have as they arise, rather than simply reacting.
Over time, the practices you learn in SFBT can help you make decisions throughout your life and it can help you to come to conclusions you might not have arrived at in any other way. During and after engaging in Focus Therapy, the idea is that you will have developed tools and techniques to effectively engage with and address the concerns you bring to your therapist during sessions. This type of therapy can also help you feel more secure in your decision-making, as you essentially act as a partner with your therapist to develop the tools and techniques that will work best for you, rather than following a prescribed and generic set of rules or practices.
Getting Lost In The Haze Of Your Past?
Finding the Steps to Solve Problems
As you talk about your life and the situations that cause you the most trouble, the therapist is also in touch with their own felt sense of the situation. They employ creativity skills as the guide to the conversation so that you find the range of answers you seek from within yourself. Instead of trying to solve a major life problem, focus therapists help you focus on finding the solutions you need to succeed right now.
This type of therapy lets you see yourself as the therapist and the actual therapist as just an emotional springboard, helping to guide you in the right direction but letting you come to the conclusions on your own. They'll become the best friend that you wish you had, always willing and able to listen to you about whatever might be going on in your life, no matter how mundane it might seem. Then, they'll let you discuss all of the things that you want or need in order to make yourself feel better about your life.
You get to come up with the different steps in the process and you get to actually implement the steps too. Even more, you're going to be the one who is responsible for gauging whether the steps are working or if you need to make changes to your process. Because you're in control of everything you don't even need to be in a session to decide you're going to do something differently. You can do it anytime you want.
How It Feels To Progress
When you identify the next step to take and have an inner sense that the step is best for you, you may immediately feel a sense of comfort, confidence, and relief. Developing the tools need to help you address any concerns you might have about your health can improve your physical health and well-being, and boost your self-esteem and feelings of confidence. That confidence can continue to improve when you implement the strategies you've developed during your sessions, which is one of the more significant goals of SFBT.
Conclusion & Parting Thoughts
Most of us genuinely want to be happy and healthy, both physically and mentally. With the help of a focused therapist, you can begin to develop tailored tools and techniques to address the unique circumstances of your life and habits and make a real difference in your wellbeing. As with all therapy modalities, successfully implementing changes and learning healthier habits and practices is going to take time and you're going to need to put some effort into it, but SFBT techniques can help you make the changes that you need most and help improve your quality of life in a significant way.
This type of counseling is a personal experience that is tailored to you and your unique needs at a given point in time. If you're still wondering if counseling is right for you, are interested in learning more about focused therapy, or how much counseling costs, please reach out to the mental health professionals at BetterHelp. BetterHelp specializes in connecting people with mental health professionals through online counseling to help address all types of mental health concerns and challenges, including those addressed in Focus Therapy.
Therapy is Personal
More than anything, therapy is unique to you — and not everyone will go into it seeking the same things or walk the same course. Keeping this in mind to ensure that you will get the most out of online therapy, regardless of what your specific goals are. If you're still wondering if therapy is right for you, and how much it costs, feel free to reach us at contact@betterhelp.com, a member of the team will be more than happy to answer your question. BetterHelp specializes in online therapy to help address all types of mental health challenges. If you're interested in individual counseling, please reach out to contact@betterhelp.com.
Commonly Asked Questions
Does therapy help with focus?
Yes, therapy helps with focus by offering you an opportunity to address mental health conditions and negative emotions that may affect your ability to concentrate, like anxiety, depression, and even ADHD. Therapist sometimes teach kids and grownups with ADHD focus strategies through play, take-home exercises, and other techniques. They can also share skills like mindfulness meditation and relaxation exercises to help you return to yourself when you're feeling unfocused.
How can I improve concentration?
If you struggle with concentration, you might want to consider:
Eating a healthier diet
Drinking more water
Getting a medical checkup to rule out health issues
Avoiding drugs and alcohol
Breaking up your responsibilities into smaller tasks
Taking a break from social media
Practicing mindfulness
Which therapy is best for ADHD?
The general consensus among psychologists, healthcare providers, education specialists, and other professionals is that cognitive behavioral therapy (CBT) seems to be the most effective intervention for ADHD.
What is the miracle question in therapy?
The miracle question in solution-focused therapy is an exercise that calls for the client to bypass their perceived obstacles and challenges in order to imagine an ideal reality. There are many variations of the miracle question, here is one of the most popular ones:
"Suppose that while you were sleeping tonight and the entire house is quiet, a miracle happens. The miracle is that the problem which brought you here is solved. However, because you're sleeping, you don't know that the miracle has happened. So, when you wake up tomorrow morning, what will be different that will tell you a miracle has happened and the problem which bought you here is solved?"