Where Can I Find A Child Therapist?
Updated September 09, 2021
If you're considering having your son or daughter see a counselor, you've probably asked the question, a quick Google search will give you a long list of health professionals in your area ranging from marriage and family counselors to counselors. However, going through a long list can be overwhelming.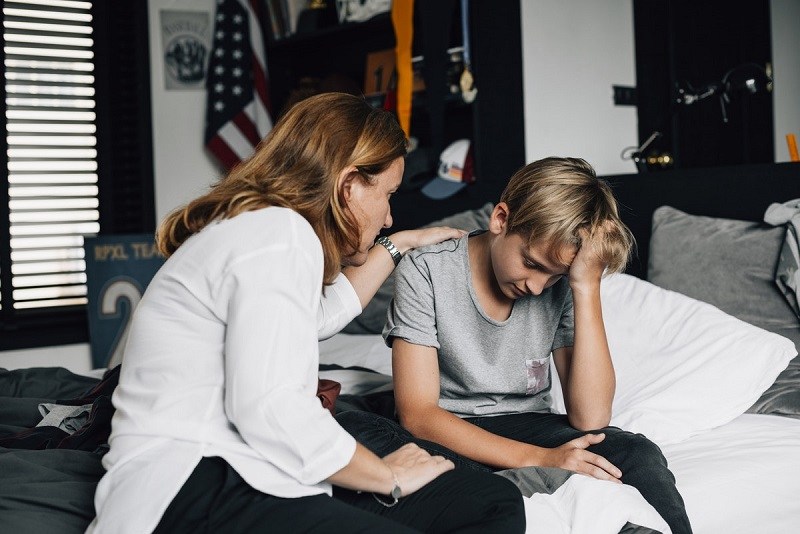 This website is owned and operated by BetterHelp, who receives all fees associated with the platform.
Source: rawpixel.com
Issues That Matter: When to Take Action
Life changes and ups and downs are a part of everyday existence. Like adults who need a marriage, career, or family counselor, many kids struggle with family drama, school problems, self-esteem issues, and stress in general. This is normal. However, bumps in the road might require your son or daughter to learn new coping skills, take on different perspectives, or improve their communication skills.
So, when should a parent seek help from a professional? Everyday situations in which a counselor can help include:
Signs of Depression or Anxiety. It is estimated that 60% of kids with depression are not getting help, according to the Anxiety and Depression Association (ADAA). The number of kids with untreated anxiety is close to 80%. Many parents mistake these issues as a "phase." Issues relating to health may demand the attention of a counselor.
Emotional Problems. Kids experience issues that are much deeper than normal sadness or mood swings. If your son or daughter has outbursts that can't be controlled, acts out of anger in destructive ways, or exhibits emotional responses that seem abnormal, consider scheduling a session with a health professional.
Behavioral Issues. Just like emotional issues, inappropriate behavior is a normal part of growing up. Parents may find it a little hard to find a healthcare provider. If your son or daughter has been diagnosed with a behavioral disorder or struggles with a condition (ADHD, Autism, etc.) therapy could be a great option.
Self-Esteem Struggles. A major battle of parents today is figuring out how to help kids feel good about themselves. Self-esteem proves to be a major issue even for adults, causing them to turn to a marriage and family counselor. School and online bullying can chip away at self-esteem and lead to chronic feelings of worthlessness. Self-esteem matters a lot when talking about your kids' health. If you've tried helping them strengthen his or her self-image with minimal success, a counselor specializing in adolescent issues might be the best person to help build a solid core and fortify your kid's health.
Abuse or Trauma. One out of every five girls and one out of every twenty boys in the U.S. is a survivor of sexual abuse, according to the National Center for Victims of Crimes. Finding out that your son or daughter has experienced a trauma can be traumatizing for parents and cause feelings of guilt.
Changes With Sleep or Eating. Disordered eating and sleep problems can suggest other issues. They should always be addressed, first by a professional, and secondly by a person who understands recovery.
Self-Destructive Behavior or Threats of Self-Harm. Threats or talk of self-harm should be treated seriously. Children who think or talk about these acts need professional care and assistance to return to a healthy, happy life.
Struggles in Life. Counseling may be the answer for kids who don't have any of the issues above, but are struggling to succeed. They may be plagued by troubles in the house, have trouble fitting in at school, or can't seem to find happiness no matter how hard they try. If anything just 'feels wrong,' reach out to a counselor.
What Does A Child Therapist Do?
Every session is tailored to the needs of the client. Most sessions will consist of a mixture of four things: talking, doing activities, solving problems, and practicing new skills. How long these sessions last and the duration of sessions depends on their needs and goals.
How Can I Help My Child?
Choose a counselor, who is qualified, experienced, and can make your child feel comfortable.
You will also need to see the counselor one on one to discuss your needs and what you hope to accomplish through counseling sessions.
Encourage practicing skills learned during counseling.
Be patient and available. Instead of acting out of anger or irritation, be supportive and encouraging. A positive attitude can help them better deal with their emotions.
Options for Finding Help for Your Kids
There are several different options:
School resources: Many schools offer counsel free of charge for students in need. School psychologists are usually well-trained in the needs of adolescents.
Local counseling centers: If they are covered by insurance that will fully cover the cost of counseling, then this may be a good option for your family.
Online Counseling: Studies show that online counseling is a useful alternative to face-to-face counseling when helping manage symptoms of common health disorders. Online counseling services work by connecting parents with a counselor who can guide them through the counseling process, while providing access to helpful resources.
Online counseling can help them grow and cope with the world around them. BetterHelp has devoted the online counseling platform Teen Counseling to serve kids ages 13-18 years old. Unlike face-to-face counseling, which may not be readily available (especially in schools with no counselor, or rural areas that do not have counselors close by) online counseling through Teen Counseling is easily accessible. You can set them up with a tablet, laptop, or smartphone and let them speak with a counselor while sitting on their bed. The licensed counselors at Teen Counseling can give them the tools to cope with whatever they're going through. Read below for reviews of counselors, from those whose kids have received guidance in the past.
Counselor Reviews
"Karen has done an amazing job with my daughter. I was hesitant if virtual counseling would work, especially since my daughter only preferred the chat option, but Karen has exceeded all of my expectations. My daughter has made drastic improvement and others have even noticed the change! My favorite thing is that Karen cares about my daughter as a person (not just a client) because she always asks how my daughters pets are, which really means a lot to her."
Learn more about Karen Lindsay
"I sought counseling for my almost 17 yo son to help with anger mgmt/emotional control and overall complicated family & life issues. I noticed a change within a week. My son is not someone who opens up easily but he has responded very well to Ryan and his advice. He now schedules his own sessions without prompting and is even starting to talk to me about some of the behavioral methods he's learning. Of note, we've had an in-person family counselor for 5 years but I've seen more progress in the one month with Ryan. Well worth it and one of the best decisions I've made."
Learn more about Ryan Bullard
Conclusion
Regardless of the route you choose, keep in mind that you have the responsibility of helping your kids realize their best selves as parents. For these reasons, you might go through the process of hiring a marriage and family counselor. By opting to find a counselor to assist them with his or her problems, you are offering the best for your kids.
---
Previous Article
The Importance of Domestic Violence Counseling To End The Violence: Where Can I Find Domestic Violence Counseling Near Me?
---
Next Article
I'm Ready To Find Drug Counseling Near Me: Where Should I Start To Navigate My Addiction?
---
The information on this page is not intended to be a substitution for diagnosis, treatment, or informed professional advice. You should not take any action or avoid taking any action without consulting with a qualified mental health professional. For more information, please read our
terms of use.