What are some tips on coping with a bipolar parent?
Asked by Beth
Answered
12/06/2021
Bipolar Disorder is a diagnosis whose symptoms create an erratic and sometimes create gret chaos in the person's life who has the diagnosis but also in the lives of those who regularly come into contact with them.  What seemed fine two or three sentences ago can just as suddenly turn dangerous and lead to a hospitaliztion as you notice.  It can also just as quickly destroy the peaceful setting of a wedding and create forever negative memories of something that should be beautiful and wonderful.  It is, however, as you probably already realize something that is difficult to manage.  Setting boundaries is healthy but it can be difficult to navigate the emotions of another person who is hearing or receiving the boundary setting.  The timing of setting boundaries needs to be chosen with the greatest of care.  It seems that you have been managing this dilemma for a while and would like some guidance.
It would be important for you to share how the person diagnosed with Bipolar Disorder has been affecting your life.   You say that this happened 3 years ago so I would ask that you prepare a time line of how she affected your life prior to the diagnosis and since the diagnosis.  No piece of information is too miniscule.  They are all very important to resoling your dilemma and determining how to begin setting boundaries.  Please be as specific as you can concerning any past interactions and attempts to work with her mental health symptoms.  What was successful and what was not successful?  Are you aware of the National Alliance for the Mentally Ill a/k/a NAMI?  There are many groups throughout the United States and they provide resources at their websites and meetings that are educational and supportive.  You can reach then at www.nami.org.  You may find that their availability is limited to or heavily internet or virtually focused today.  That would be a good resource whether virtual or in person. 
Bipolar Disorder is best managed through a combination of counseling and medication.  Medication is going to be generally a lifelong situation as it is a chronic disease much the same as diabetes or heart disease.  She will decompensate from time to time so finding successful responses to her symptoms that you can use on a regular and steady basis.  This is likely to reduce the chaos and change for you.  Read a good book on Bipolar Disorder. The best writer I know is Kay Jamison who wrote An Unquiet Mind and who is a medical professional diagnosed with Bipolar Disorder.  You will find that a search of "Bipolar Disorder" on Amazon will produce family books for those who love a family member diagnosed with Bipolar Disorder.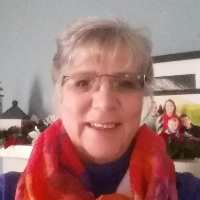 (Psy.D., LISW-CP/S, CACII)